Recruiting Profile
Nicholas Baez: Bienvenidos a Barcelona
by
Ali Jones
, 21 July 2010
Nicholas Baez could not have imagined that a leisurely European vacation would drastically change the course of his young life.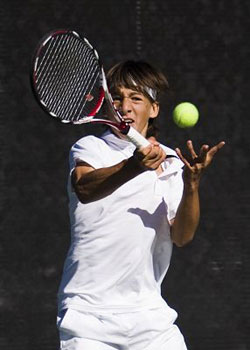 Nicholas Baez
is heading to Spain
© Julie Wrege, TennisRecruiting.net
In July 2010, Baez and his mother will move to Spain so he can train full-time at the
Academia Sánchez-Casal
in Barcelona. The family foresees the move to be long term.
Baez, who lives and trains in southern California, has nothing but great things to say about his American coaches. He realizes that athletes the world over flock to the United States because it is a world-class training ground.
"Maybe here it is a better fit for them," the five-star recruit said. "But for me the footwork, consistency and hard training mentally and physically work better for me [in Spain]. I am more comfortable in a tough, rigorous environment."
"The level of tennis training here [in the U.S.] is exceptional," said Tracey Baez, Nico's mother. "But tennis is an individual sport and for Nico, Spain is a fit. It is a genetic fit, too. The Spaniards understand him."
When Nico was 10 years old, the family went on a European trip and his American coaches suggested that he check out some of the tennis academies while there. Sánchez-Casal was the first to respond to Mrs. Baez's inquiries.
Nico spent two weeks in the intensive program and he responded with enthusiasm, even if at the end of the day he was dog tired. He woke up every morning eager to return to the academy for more punishing tennis. And he fell in love with the red Spanish clay.
"When I first went to Spain I was not used to the repetitiveness," Nico said. "As I have gotten older I have realized that to be very good at tennis it takes long-term goals and consistent training to achieve them."
He returned to his California home, but the stint in Barcelona stayed fresh. In 2008, Nico asked his parents if he could return to the academy and he did so, accompanied by his mother - this time for six weeks. They returned again the next year for three months, the maximum period of time which their visas allowed.
"[Nico] had started to build solid relationships with the coaches and has friendships with some of the kids now," Mrs. Baez said. Even before the third trip was up, "he asked to return to Spain and to train and live there."
They have applied for yearlong visas - Nico as a student and Mrs. Baez as a permanent resident. Once approved, the visas can be renewed.