Special from
Zoo Tennis
After 16 years as head coach of the University of Virginia men's program, Brian Boland had no mountains left to climb in college tennis. Under Boland, 45, the Cavaliers went from an ACC also-ran to a perennial national title contenders, winning six ITA National Team Indoor championships, four NCAA team championships, four NCAA men's singles championships and three NCAA men's doubles championships.
In March, Boland announced he had found another peak to scale and was leaving Charlottesville to become the USTA's head of men's tennis, replacing Jay Berger, who had held that position since 2008. Boland got the perfect sendoff in May: Virginia defeating North Carolina 4-2 to win their fourth title in five years and senior Thai Kwiatkowski claiming the singles title.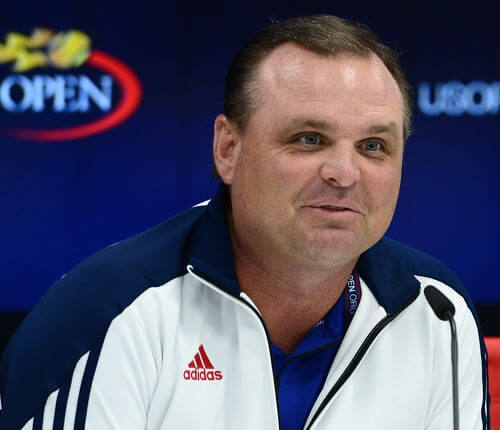 New USTA Head of Men's Tennis Brian Boland
©
USTA
Earlier this month at the U.S. Open, I spoke with Boland about his decision to leave Virginia, changes he's introduced at the USTA, his goals for American men's tennis, the viability of the college tennis pathway and many other topics.
Colette Lewis: How did you approach the job at the outset?
Brian Boland: I took the first month to listen and learn and talk to different coaches, those who have been around player development for a number of years, just to try to learn as much as I can. One of the things I believed I could add was to make sure that every coach had a chance to be great by focusing on a targeted group of players and be completely accountable for that. That doesn't mean they don't change lanes and help each other; I know a number of our coaches collaborate, work to make each other better, help each other from a coaching standpoint, but we really want to have coaches assigned to specific players and that will be their focus.
CL: How have you structured that change?
BB: Dustin Taylor, for example, is now overseeing Reilly Opelka and he has three other players that he monitors and mentors. So far, it's gone well. We've had to tweak it as we've gone along. It was a process where I spent a number of hours listening and learning from coaches, administrators, as well as the players. I've been at every [ATP] tournament since Newport, so I've spent a lot of time trying to talk to every American player in the Top 500. I just want to make sure that we're one big team and that we take advantage of the great job the private sector has done for so many years.