College Commitment
Egger Will Join Washington Huskies in 2011
by
Colette Lewis
, 8 July 2010
Emmett Egger is comfortable with life on the road. In the past half-dozen years the 17-year-old blue chip has played tennis in Europe, North America and Central America, and has lived and trained in Florida and Texas.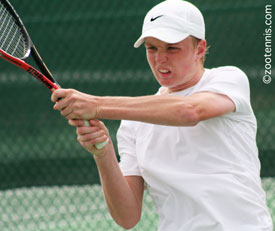 But when it came time to consider his college options, the Issaquah, Washington native kept the
University of Washington
high on his list, and last month verbally committed to join Matt Anger's Huskies in the fall of 2011.
"I really like Washington, I love living there, and they happen to have a great program," Egger says of the school he calls U-Dub.
"Growing up in Washington, I've always liked the Huskies and rooted for them, being from the same town. A lot of coaches I respected had a lot of good things to say about Coach Anger, so I thought it was the program and the coach that was right for me."
Egger had narrowed his choices to Washington, Northwestern, Virginia, Duke and North Carolina, and had taken unofficial visits to all five universities, but after sitting down with his father to discuss his decision, he elected to join the Huskies.
"All were really impressive schools," says Egger, ranked ninth in the class of 2011. "I liked all the coaches, and academically they are obviously very good, have a lot to offer. I had a good scholarship opportunity at Washington, I really liked coach Anger, and decided that's where I wanted to go."
Egger also will have two familiar teammates in addition to a familiar location, with former Seattle-area junior rivals Max Manthou and Nicolas Kamisar signing with the Huskies for the upcoming school year.
"I grew up with them, have known them since I was 9 or 10," Egger says. "And I've been able to get out there and meet the U-Dub teammates, both those who will be gone by the time I get there, and the others who will be there when I start."