Special from
Zoo Tennis
Motivated by a rejection when he began playing competitive tennis, Govind Nanda made a commitment to improving. That determination has now led to another commitment: the blue chip recruit, No. 10 in the Class of 2019, is just months away from becoming a UCLA Bruin.
Nanda, who took visits to UCLA, Stanford and USC, while also considering Virginia, believes Westwood is the best place to pursue his goal of becoming a professional.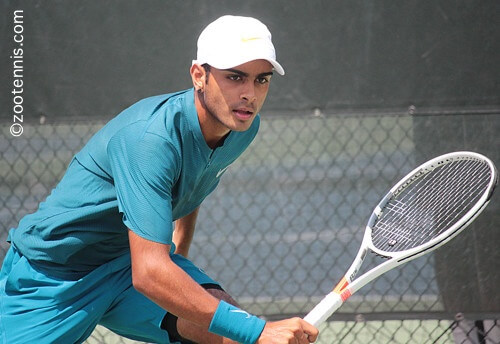 "I'm going early, I'm going in January in 2019," says the 17-year-old resident of Cerritos, California. "I'm really excited to go there and be a Bruin. I think, honestly, it's the best fit for me at this point. I get to stay in L.A., be with my coach on a consistent basis."
That coach is Vahe Assadourian, who has been working with Nanda for over three years at the USTA's Player Development-West facility in Carson, California. But early in Nanda's junior career, his dream of competing there with the best in his age group appeared unlikely.
After taking up tennis at age 5 in the Southern California city of Redlands, Nanda was invited to a camp in Carson. But he was not among those selected to continue training there.
"When I was about 8, I tried to go to Carson because they had this junior program, where a lot of the best juniors were going at the time," says Nanda, who now lives much closer to his Carson training base. "I actually didn't make the cut at the start. That kind of gave me some motivation to make it, try to get there. After I got there, I started progressing a little more, playing more tournaments, started traveling a little bit."