Tournament Summary
Lone Star Excellence
by
Ali Jones
, 10 September 2010
While the world's best tennis players battled it out at the USTA National Tennis Center in New York City over Labor Day weekend, top Texas juniors squared off in suburban Dallas in the semi-annual showdown known as the Excellence.
The prestigious event showcases the Lone Star state's top 16 players in a high-stakes compass-draw competition, with some of the year's biggest ranking points on the line. The competition was fierce and the drama riveting from the first ball.
In the Girls 18s, a past National Open champion and prospective Baylor Bear rode a retooled forehand to her biggest Texas title, while a pair of qualifiers ripped through the field to contest the Boys 18s final. Equally compelling story lines characterized the 16s, where an unseeded upstart claimed the girls' trophy and the top-seeded boy battled a bad stomach as well as a formidable opponent before pulling off a three-set championship triumph.
Girls 18s Champion: Megan Horter
Blue-chip recruit Megan Horter of Southlake headed into the final major championship of the Texas junior schedule with a more powerful forehand - and memories of disappointing losses. Seeded second at the Excellence, Horter cruised to the finals, losing only eight games in three matches. Waiting for her was an off-court friend and on-court nemesis, top seed Nicole Long of Plano.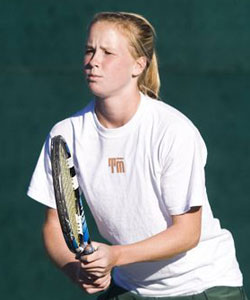 Girls' 18s Champion
Megan Horter
© Julie Wrege, TennisRecruiting.net
"Nicole is always a tough opponent," said Horter. Indeed, she had lost to the lanky lefty in the
January Excellence
as well as the
Grand Slam
.
Horter's game plan was to hit through the court rather than give Long the chance to hit the angles that she loves, attack the backhand, and, above all, "be positive and not get too upset."
The picture-perfect Indian-summer weather during Saturday's qualifying tournament had given way on Monday to the hot and breezy conditions that so often define Texas tennis. As the wind kicked up, Horter came out sharp and executed her game plan to perfection.
"I made few mistakes," she said, and quickly built a 5-2 lead. But serving for the set, Horter faltered. A couple of wind-aided double faults gave Long the opening that she needed, and the top seed pounced. Cutting down her mistakes, Long closed the gap to 5-4. Horter remained calm, and she served out the set at 6-4.
Horter sensed that it might be her day. "She was a little tired mentally," she said of Long. "I didn't really see her fire."