Special from
Zoo Tennis
KALAMAZOO, Mich. - Zachary Svajda proved to be a quick study in his first appearance at the USTA Boys 18s and 16s Nationals in Kalamazoo, with the 16-year-old from San Diego earning his first gold ball and a U.S. Open main draw wild card with a 6-7(3) 7-5, 6-3, 6-1 victory over Govind Nanda in the 18 singles final at Kalamazoo College's Stowe Stadium.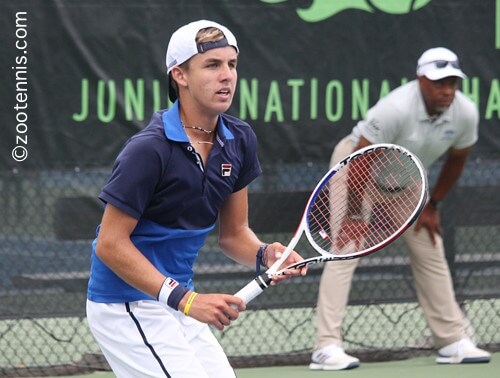 Singles Champion Zachary Svajda
© Zoo Tennis
Svajda rolled through his first five matches in straight sets, although the No. 6 seed said he didn't really hit his stride until the fourth round.
"It definitely took me a few days," Svajda said of the time he needed to adjust to Kalamazoo's unique atmosphere. "The first few matches weren't the best. But I would say third round it got a little bit better and then the fourth, the fifth, and in the semis and finals it got much, much better."
Svajda faced top seed Brandon Nakashima in the semifinals, a daunting task given Nakashima's 16s title in 2017 and runner-up finish last year in the 18s. But Svajda found his route to victory by aggressively attacking Nakashima's second serve to claim a 4-6, 6-4, 6-2 win and a place in the final.
Nanda, seeded No. 5, had chalked up significantly more hours on court in his run to the final, earning four consecutive three-set victories, with the last two from a set down. Nanda defeated No. 4 seed Cannon Kingsley 6-7(8), 6-1, 7-5 in the quarterfinals after trailing 5-1 in the opening set, and needed another comeback in the semifinals against No. 25 seed Ronan Jachuck, who served for the match in Nanda's 4-6, 7-5, 7-5 victory.