Special from
Zoo Tennis
BRADENTON, Fla. - The Florida sunshine was abundant last week for the Eddie Herr International Championships at the IMG Academy and so were American titles in the 16s division, with the United States capturing all four championships in that age group.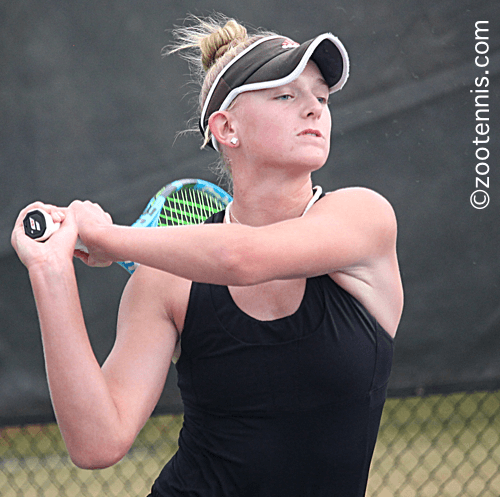 Girls 16s Singles Champion Ashlyn Krueger
© Zoo Tennis
No. 8 seed Ashlyn Krueger, who needed a wild card to gain entry into the 16s, won her first major title in an all-American final, beating No. 7 seed Qavia Lopez 6-4, 6-3.
"I started slow this week, but towards the end, I really upped my game," said the 6-foot-1 Krueger, who has been working with Dave Licker at the Lakes Tennis Academy in Frisco for the past several months. "I feel like I'm an all-court player, but I also like to hit big from the baseline and look for my opportunity to come to the net. Today I had to [do that] because she's a good baseliner, so winning points at the net was how I was going to win."
Krueger fell behind 3-0 to start the final, but although she admitted to some nerves, she didn't panic.
"I am a slow starter, so I just had to stay calm," said the 15-year-old, who ended the 20-match Eddie Herr winning streak of 2017 12s and 2018 14s champion Brenda Fruhvirtova of the Czech Republic in the semifinals. "It was hard, because she's one of my friends, but it came down to the mental and physical. She played really well, so I just had to up my game and play better."