Recruiting Feature
Fall Signing Week '10: National Roundup
by Dallas Oliver, 9 November 2010
Signing Week is underway, and tomorrow, senior tennis players will begin signing their National Letters of Intent with Division I and Division II schools. We have been tracking verbal commitments for several months (boys, girls), and throughout the remainder of the week, we will be featuring live commitment announcements from a number of highly-recruited boys and girls.
Today, we hear comments from boys and girls across the country in our National Roundup. We talked with several recruits who plan to sign this week during the Fall signing period. We asked them about their college choices - and how they reached their decisions.
Here is a whirlwind tour around the country to review these verbal commitments. They have some interesting - and sometimes surprising - things to say...
Thomas Gans (Plano, Tex.) to IUPUI
Senior Thomas Gans walks tall among his peers - literally. The 6'8" Gans makes use of that height on the tennis court, and his size was one of the factors that went into his recruiting. Gans recently made a commitment to Indiana University-Purdue University Indianapolis, selecting the Jaguars after also considering Montana State and Gardner-Webb.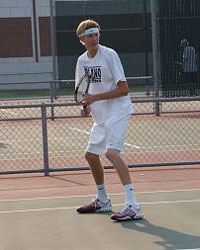 What factors when into your decision to become a Jaguar?
I chose IUPUI for several reasons. I am planning on majoring in engineering, and IUPUI has a great Engineering school. IUPUI has an enrollment of almost 30,000 students from every state and many foreign countries.
Tennis-wise, they play a Division I schedule with matches against Marquette, Michigan State, Kentucky, Louisville, etc., in addition to their Summit League schedule. That really impressed me.
The urban setting of the campus in the heart of downtown Indianapolis and the proximity to so many things to do was also important to me. Indianapolis always has a lot going on with regards to sports whether it be the NFL, NBA, or the Final Four.
I also liked IUPUI because Coach Currie started recruiting me in the spring of my junior year and told me I was a priority of the 2011 recruiting class.
How was your visit to the school? Did you take an official visit?
I took official visits to Montana State and IUPUI. On my visit to IUPUI, I got to watch a practice, I went to a women's soccer game on campus, I hung out with the team, and I went out to dinner and a movie with several players - as well as both Coach Currie and Asst. Coach Nickell.
You mention the coaching staff at IUPUI. Could you talk more about them?
IUPUI has 2 coaches involved in practices to give more individual attention to your game. I also liked the fact that Coach Currie is 6'7", and with me being 6'8", I felt he could really relate to my potential development as a player and understand what a player my size has to do to develop. Coach Currie played at Butler where he was a pretty successful collegiate player.
What goals do you have for your freshman year in 2011-12?
My goals as a freshman are to earn a spot in the starting lineup and help IUPUI win the Summit League tournament in order to qualify for the NCAAs. I am looking forward to becoming an IUPUI Jaguar.