Special from
Zoo Tennis
2019 Orange Bowl 16s champion Ashlyn Krueger may not have been an entirely surprising 18s champion, although the 16-year-old Texan was an unseeded wild card in a field that included the ITF's top two girls. The bigger shock at last week's Grade A tournament at the Veltri Tennis Center in Plantation, Florida was in the boys draw, with unseeded Arthur Fils of France coming out of nowhere to claim the title.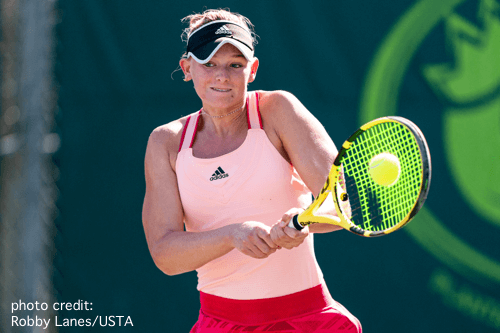 Girls Singles Champion Ashlyn Krueger
© Robby Lanes/USTA
Despite her title last year, Krueger had no edge in experience in last Sunday's Orange Bowl final, with her opponent Jana Kolodynska of Belarus returning to the 18s final for a second straight year after downing ITF World Junior Circuit No. 1 Elsa Jacquemot of France 6-1, 1-6, 6-1 in the semifinals.
Krueger had taken care of the No. 2 seed and 2020 Australian Open girls champion Victoria Jimenez Kasintseva of Andorra 6-4, 6-2 in the third round, then advanced to the final with a 6-3, 6-2 victory over unseeded Laura Hietaranta of Finland.
The final was a battle between Kolodynska's defense and Krueger's offense, and it was Krueger who prevailed 6-4, 6-4, drawing on the maturity she has gained in the past 12 months.
"In the beginning, I had to figure it out," said Krueger, who broke Kolodynska in the fifth game, then defended her own serve in three consecutive lengthy games to close out the first set. "But I remembered, I have time, I have time to figure it out. She threw a lot up, so I could hit swinging volleys, volleys. She hits really good lobs, on the back of the line every single time, so I didn't want to get pushed back too much. I had to move forward and figure it out."