Notes
The table above lists all recruits as of May 9, 2022. In addition to the Star Rating, we display the highest TRN, ITF junior, and WTT rankings for each player over the 6-month period prior to the voting, and for international players we display the TRN ranking they would hold if eligible. We also display current UTR numbers from the date the voting began.
Also Receiving Votes
Other women's programs receiving votes are: Georgia (23), Washington (23), Georgia Tech (21), Western Carolina (20), Michigan State (19), Army (18), Kentucky (14), South Carolina (13), Cornell (10), Missouri (10), Delaware (8), LSU (8), Alabama (7), Marshall (7), Boston College (6), Incarnate Word (6), Purdue (1)
Women of Troy
The University of Southern California athletics programs are college sports royalty, winning 111 total NCAA team championships - third-most across all NCAA Division I programs - across 17 different sports. The USC women's tennis team has won two of those titles, the most recent coming in 1985.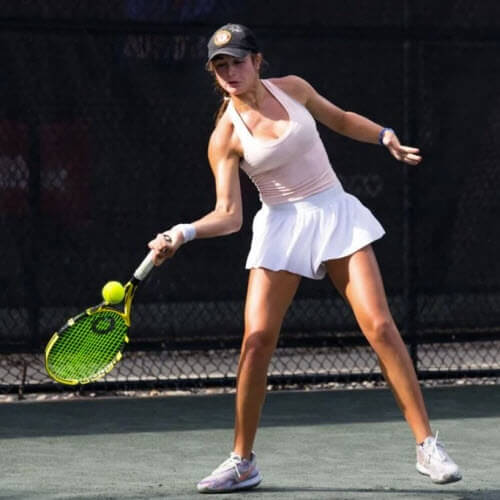 Trojan Head Coach Alison Swain, who just completed her fifth year at the helm, is looking to move USC towards more championships with the No. 1 recruiting class in the land.
USC has a pair of highly-decorated recruits arriving in the Fall in Madison Sieg (Greenwich, Conn.) and Emma Charney (Mt. Pleasant, S.C.). Sieg has been competing in professional tournaments, winning five matches on the way to a singles title at the W15 Naples held at Emilio Sanchez Academy in March and also reaching the quarterfinals of the W25 Orlando in April. Charney splits her time between high-level junior and professional events. One of her best performances this year resulted in a singles title at the J4 Atlanta ITF in October.
These Blue Chip recruits, both ranked in the Top 5 nationally and the top-rated recruits out of New England and South Carolina, respectively, earned 333 of a possible 350 points and 5 first-place votes to claim the top spot from our panel.
Coach Swain should be excited to add these two recruits to a squad that is expected to return 6 of its top 8 contributors and reached the second round of the 2022 NCAA Tournament.
Give Me Five
With USC garnering only 5 of the 14 first-place votes, that left plenty of votes to go around to other strong recruiting classes. Two of those first-place votes went to Stanford University - who our panel voted No. 2.
The Cardinal have a trio of recruits coming to Palo Alto this Fall - starting with Blue Chip recruits Alexis Blokhina (Fort Lauderdale, Fla.) and Emma Sun (Newbury Park, Calif.). The pair will be joined by Mia Tsoukalas of Australia to form a class that garnered 327 points to hold on to the No. 2 position on the list.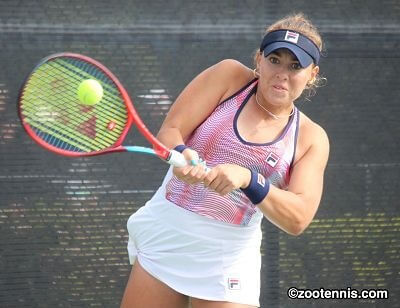 At No. 3 in our list is Texas A&M - up one spot from our winter poll. Blue Chip senior Daria Smetannikov of Morganville, N.J. and Canadian Mia Kupres will be in College Station next year. In-state recruits Lizanne Boyer (Dallas) and Avery Esquivel (Austin) round out a four-woman class that drew 5 first-place votes for the Aggies.
Rounding out the Top 5 are the Florida Gators and UCLA Bruins at No. 4 and 5, respectively.
Moving Up
Several programs made significant moves over the past few months to improve their positions on this list. UCLA added Fangran Tian of China to help climb from No. 11 up to No. 5, while two programs - the Florida State Seminoles (No. 7) and Texas Tech Red Raiders (10) went from unranked in the winter to the Top 10 this spring.
Other recruiting classes new to the rankings this spring are Pepperdine (13), Virginia (14), Denver (15), and VCU (25).
Conference Call
When looking across the lists, two conferences stand out above the rest - the Atlantic Coast Conference and the Pac-12 Conference.
WIth 6 classes on our list, the ACC leads the way in terms of numbers. Florida State (No. 7) is joined by the Notre Dame Fighting Irish (8) in the Top 10 classes. Other ACC programs in the rankings are North Carolina (11), Virginia (14), Wake Forest (15), and Duke (19).
The Pac-12 is next with five ranked classes overall, but four of those classes are in the Top 10 - with three in the Top 5. The Utah Utes (9) stand tall with USC (1), Stanford (2) and UCLA (5) towards the very top of our rankings. Fellow conference member Arizona (22) rounds out the ranked classes from the Pac-12.
Beyond the Power 6
Four programs in our rankings come from outside the six so-called "power conferences" that routinely send multiple teams to the NCAA tournament. The Pepperdine Waves are No. 13 in our rankings. They are joined by the Denver Pioneers (No. 15), UCF Knights (18) and VCU Rams (25).
Drop Shots
Scattershooting through the rankings:
State by State: The 25 programs in our rankings hail from 16 different states. California leads the way with 4 ranked recruiting classes. Florida and North Carolina each have 3.
Streaking: The Harvard Crimson (No. 17) make their 11th straight appearance in our recruiting class rankings - one more than the 10-year run for Duke (19).
You Again? A whopping 13 programs have made 10 or more appearances in our recruiting class rankings over the years. Stanford (2) and UCLA (5) have each made 16 overall appearances, leading all others. North Carolina (11) is close behind with 15 appearances.
New Kids: For three programs, 2022 marks the first-ever year with a ranked recruiting class. Utah made a high debut with the No. 9 class, and they are joined by Denver (15) and VCU (25).
Welcome Back: Brown University (21) has a ranked recruiting class for the first time since 2014. Bear Head Coach Lucie Schmidhauser just wrapped up her fourth year at the helm.
Looking For No. 1: Florida (4) and North Carolina (11) each drew one first-place vote from our panel.
Panelists for 2022
The 14 panelists for this voting period are shown below alphabetically. Please join us in thanking them for donating their time and talents to this effort.
Sonny Dearth - Daily Press newspaper and dailypress.com Web site in Newport News, Va.
Tim Donovan - Donovan Tennis Strategies, DTS College Prospects Showcases
Larry Haugness - Former ITF and USTA National Tournament Director, PTR National Tester, USPTA, Junior Davis Cup Coach
Granger Huntress - Texas College Tennis blog
Ernie Katko - Junior Development Coach in the Quad Cities Area, USTA High Performance Coach
Bobby Knight - CollegeTennisToday.com
Patty Lambropoulos - Junior Tennis Coordinator, College Park Athletic Club, National/Sectional/Local Tournament Director, Chicago District Board of Director, USTA National Jr Competition Committee, Midwest Junior Competition Committee
Colette Lewis - ZooTennis.com
Rick Limpert - TRN contributor, freelance writer
Parsa Nemati - Universal Tennis, Tennis Channel, Parsa Bombs
Robert Sasseville - National Tournament Director, USTA Junior Competition Committee Member, USTA National Referee
Jonathan Stokke - Former associate head coach at Duke University, High performance coach.
Lisa Stone - ParentingAces.com
Julie Wrege - TRN principal, former National Tournament Director, former USTA junior ranking chair and USTA Tennis Rules Committee member
Leave a Comment
More Recruiting Class Rankings
6-Feb-2023
Top Women's Classes - 2023 Winter Rankings
The size of our commitment list is pushing 500 for the senior girls. With that in mind, today is a great time to check in on how schools are doing on the recruiting trail. Today, the Tennis Recruiting Network is proud to announce the Top 25 Women's Recruiting Classes for 2023.
30-Jan-2023
Top Men's Classes - 2023 Winter Rankings
As January comes to a close and the spring semester gets into full swing, today is a great time to take a look at the top college tennis recruiting classes. TRN is excited to present its 2023 Men's Recruiting Class Rankings - including the Top Dawgs ...
24-Jun-2022
2022 Top NCAA D-III Women's Classes
TRN wraps up three weeks of recruiting class rankings with a look at Division III. Our final list of the season shows the Top 25 NCAA Division III recruiting classes.