Notes
The table above lists all recruits as of May 23, 2022. In addition to the Star Rating, we display the highest TRN, UTR, ITF junior, and WTT rankings for each player since January 1, 2022, and for international players we display the TRN ranking they would hold if eligible.
Also Receiving Consideration
We reviewed the resumes for more than 50 teams for these rankings. Teams that received strong consideration and almost made our list are (alphabetically) as follows: Austin Peay, Emory, Florida Atlantic, Furman, Gonzaga, Incarnate Word, North Florida, Portland, Williams, Xavier
Shining Knights
When Brian Koniecko took over as head coach at the University of Central Florida prior to the 2016-17 season, he walked into a program that had not qualified for the NCAA Championships since 2002 and had only won 38% of its conference matches since the launch of the American Athletic Conference in 2013.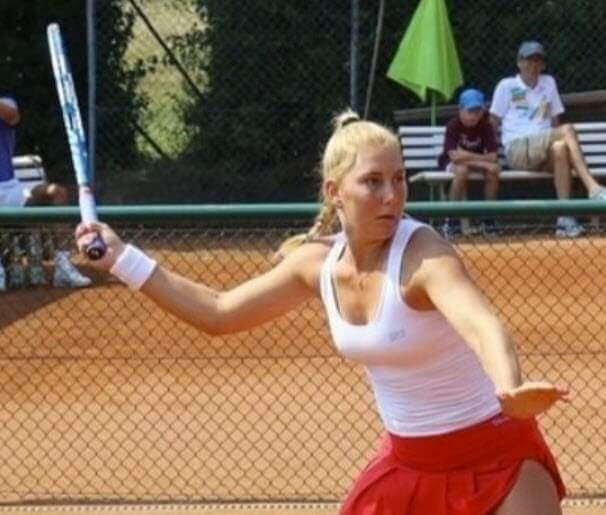 Jantje Tilbuerger has committed to UCF
Koniecko quickly changed that. The Knights have now been to the NCAA Championships four straight years - advancing past the first round in each of those appearances. UCF has also won four straight regular-season AAC titles as well as two conference tournament championships. That improvement was due in part to an upgrade in talent.
In German recruit Jantje Tilbuerger, UCF is bringing in one of the best recruits in the college tennis. Tilbuerger has career-high WTA rankings of No. 742 in singles and No. 1050 in doubles, and she owns straight-set wins over ranked college standouts Sarah Hamner of South Carolina and Tiphanie Fiquet of Ole Miss.
These accomplishments impressed our panel of college coaches - so much so that they put forth the Knights as the No. 1 mid-major recruiting class for 2022.
UCF will need that talent as they move to the Big 12 Conference starting July 2023.
Give Me Five
Several programs had strong recruiting classes that could make their own claims on the top spot - including Pepperdine University who sit at No. 2 in our rankings. Waves Coach Per Nilsson is bringing two transfers and a freshman to Malibu this Fall - including Blue Chip in-state recruit Jenna DeFalco (Tustin, Calif.). DeFalco has been competing almost exclusively on the WTA Tour, posting 11 singles victories so far in 2022 and reaching the semifinals at a W15 in Cancun. That kind of experience should help DeFalco hit the ground running on a squad that reached the Elite Eight of this year's NCAA Tournament.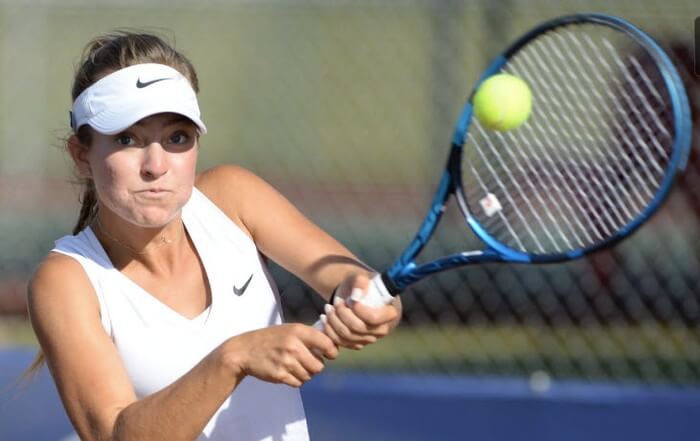 Jenna DeFalco is heading to Pepperdine
Checking in at No. 3 on our list is the University of Denver. The Pioneers have a quartet of strong players coming to the Mile High City, headlined by Blue Chip senior Olivia Dorner (Williamsport, Penn.). 5-Star senior Caroline Driscoll of Brookline, Mass. and international recruits Louise Wikander (Sweden) and Claudia Martinez de Velasco (Spain) round out Head Coach Paul Wardlaw's recruiting haul.
The FIU Panthers and Delaware Blue Hens round out our Top 5 in the No. 4 and 5 positions, respectively.
Conference Call
13 different conferences are represented in our rankings, with Conference USA leading the charge. Conference USA has five recruiting classes in the rankings - including three of the Top 10. Florida International is the highest-ranked program at No. 4, and they are joined in the rankings by the Marshall Thundering Herd (No. 8), North Texas Mean Green (9), Charlotte 49ers (13), and Old Dominion Monarchs (19). No other conference has more than three representatives.
The American Athletic Conference, Colonial Athletic Association, and Patriot League are next in line with three ranked classes apiece.
Drop Shots
Scattershooting through the rankings:
Sea to Shining Sea - These classes hail from 16 different states, with no state dominating the rankings. California, North Carolina, and Virginia lead the way with three ranked classes apiece.
New Look - 14 of the programs in this year's recruiting class rankings did not appear on our list in 2021.
First Time - Three schools are in our recruiting class rankings for the first time in school history: the Jacksonville State Gamecocks (No. 16), Lipscomb Bisons (23), and Western Carolina Catamounts (25). Welcome aboard!
Streaking - Florida International is making its ninth straight appearance in our mid-major class rankings - every year since 2014. The next-closest streak is four.
Welcome Back - Delaware is making just its second appearance in the mid-major rankings. The Blue Hens have their first ranked class since 2006.
Best Ever - In addition to our three newcomers who have never before appeared on our list, four programs are posting the best rankings in school history: Denver (3), Delaware (5), VCU (7), and Eastern Michigan (11).
Familiar Faces - Boston University (18) is making its 13th appearance in our mid-major rankings - two more than any other program.
Coming Next Week … D-III Rankings
Next week, TRN will wrap up its recruiting class rankings with a look at the Top 25 NCAA Division III recruiting classes. Look for the men's list on Monday - and the women next Friday.
Leave a Comment
More Recruiting Class Rankings
6-Feb-2023
Top Women's Classes - 2023 Winter Rankings
The size of our commitment list is pushing 500 for the senior girls. With that in mind, today is a great time to check in on how schools are doing on the recruiting trail. Today, the Tennis Recruiting Network is proud to announce the Top 25 Women's Recruiting Classes for 2023.
30-Jan-2023
Top Men's Classes - 2023 Winter Rankings
As January comes to a close and the spring semester gets into full swing, today is a great time to take a look at the top college tennis recruiting classes. TRN is excited to present its 2023 Men's Recruiting Class Rankings - including the Top Dawgs ...
24-Jun-2022
2022 Top NCAA D-III Women's Classes
TRN wraps up three weeks of recruiting class rankings with a look at Division III. Our final list of the season shows the Top 25 NCAA Division III recruiting classes.