Recruiting Profile
Recent U.Va. signee Mitchell Frank cherishes practice with Federer
by Sonny Dearth, 5 January 2011
Special from the
Newport News (Va.) Daily Press, HRVarsity.com
Though he has won plenty of significant matches and championships in his budding career, one of Mitchell Frank's best tennis memories is a practice.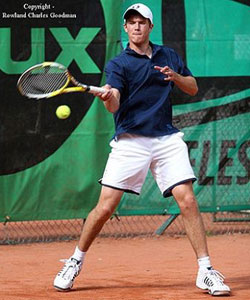 But before you shake your head in disbelief or replay the famous "We're talkin 'bout ... practice" rant by fellow Virginian Allen Iverson, consider Frank's practice partner.
None other than Roger Federer.
Frank, who recently signed to become the University of Virginia's latest blue-chip recruit, got to conduct the workout of a lifetime at last year's U.S. Open.
For a guy whose future plans include playing on the pro tour, trading strokes with a man who has won a record 16 Grand Slam men's singles titles was invaluable. Frank said he needs to work on the mental side of the game.
"I got to hit with some of the pro guys, including Federer," said Frank, 18. "That was a really cool experience. Just seeing how they go about things improves your perspective on what you need.
"Just hitting the ball is the easy part."
Frank, who was in Flushing Meadows to compete in the Open junior championships, recalled being on the opposite side of the net from Federer.
"He's very businesslike. Obviously you're a little nervous, but he just goes about what he needs to do. He understands the situation (of being a young, relatively unheralded player) because he was there before himself.
"It was a really great experience just to see the ball he hits -- he hits a slightly bigger ball. It really shows just how much more of a mental game it is."
Informed that Federer has been known to play sloppily in practice at tournament sites, Frank seemed to point out that top ATP players don't need ultra-intense sessions in between matches at an event.
"All of them, they're pretty relaxed when they're hitting. They've put in their work. When they are at a tournament, they know what they're gonna do."