College Commitment
Jasmine Minor Heads to Georgia Tech
by Marcia Frost, 11 February 2011
Throughout her junior tennis years, Jasmine Minor has always been a strong player. There never seemed to be a doubt that she would have a wide range of top colleges to choose from. But she ran into some obstacles just before her senior year. While many college-bound players could have been discouraged watching their rankings drop, Minor held tough. It was a gamble that paid off - as her long history of solid talent impressed Georgia Tech Coach Bryan Shelton - Minor signed an NLI with the former NCAA Champion Yellow Jackets this past November.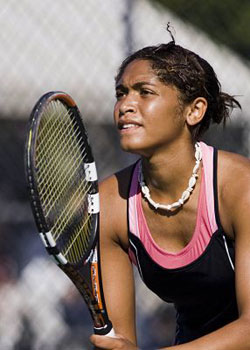 It was this past summer when Minor, a student at the CARE Academy, a USTA Regional Training Center, was getting back to her old self after being sidelined with an injury. Mark Bey, the long time coach of the Minor sisters, felt that it was time to make a change to her forehand. Unfortunately, while she practiced the new technique, her standing fell down further.
It took awhile to get her game to match the adjustment, and it showed in the results. But the Illinois native agrees that it was necessary.
"My forehand is one of my strongest parts of my game. Last year was not about rankings or results for me. It was about competing hard and progressing my game."
Regardless of whether coach and player thought the changes to her game were necessary, when the results disappeared, so did some of the calls from colleges. A drop in standing for a better game is a positive in the long run, but it can have quite an impact on the recruiting process when top schools are just looking for a Blue Chip. "When it came to recruiting purposes, it was pretty difficult coming back," Minor admits.
At the time they began the college planning process, Minor and Coach Bey weren't focusing on one particular school. They were looking for a place that offered a balance of great tennis and good academics. The list began to dwindle as they found doors that were open the year before when Minor's ranking was higher were no longer available. Bey had to sell his student - and she had to get back out there and prove herself. Neither turned out to be a problem.
Georgia Tech Coach Bryan Shelton was one who was not influenced by the change in the numbers.
"We have been watching Jasmine for the past few years," said Shelton. "We have recruited Mark Bey's students before. He does an amazing job getting his players ready for college - and with player development in general. We looked at Jasmine's enthusiasm for the game - and also her very large skill set. We also found out that Jasmine is an excellent student."