College Feature
USTA National Junior Team Edges Alabama Men
by
Colette Lewis
, 21 January 2011
The scoring was not strictly to collegiate dual match standards, the atmosphere was a bit quieter than that of a college campus tennis center, and the Har-Tru courts were certainly alien to one of the teams.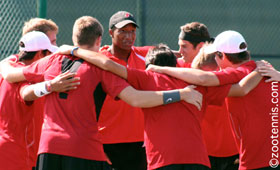 But when the USTA National Junior Team's match with the
University of Alabama
men came down to the last court Thursday, the competitive fires were fully ignited. As the 14 other players surrounded the match between 15-year-old
Nikko Madregallejo
and Alabama sophomore Ian Chadwell, it suddenly became strikingly similar to every other collegiate match that will be played over the next four months.
It was Madregallejo who emerged with the victory, a 4-6, 7-6(5), 6-4 decision at No. 6 singles that gave the USTA team a 7-5 overall advantage on their home courts at the National Training Center in Boca Raton, Florida.
Yet for Alabama head coach Billy Pate, the final score wasn't entirely the point, although he knew the competitive side of his team would surface.
"We certainly wanted to win. We have a bunch of guys who compete at everything. They compete at tiddlywinks, they compete at video games, they compete in so many ways.
"It's fresh too. It's the first competition for the spring for the whole team together; they're excited to be back from Christmas break, playing down in Florida on the clay, so it's unique. This is going to go a long way to help us during our season, which opens next week."