NCAA Championships
UNC Women Capture First NCAA Title; UVA Repeats
by Rhiannon Potkey, 22 May 2023
One program long considered one of the best in the nation finally has the missing piece. Another will have to keep waiting.
The North Carolina women beat ACC rival N.C. State 4-1 on Saturday night to capture the first NCAA Division I Championship in program history at the USTA National Campus in Orlando, Florida.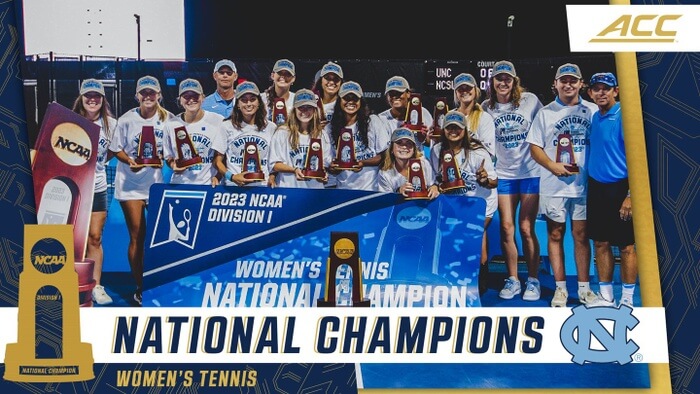 The UNC Women Won Their First NCAA Title
© UNC Athletics
Meanwhile, the Ohio State men fell just short of another attempt to break through. Fifth-seeded Virginia beat the No. 3 Buckeyes 4-0 on Sunday to capture its second straight national title and sixth overall.
"It is a bit surreal like it was when we won last year," Virginia head coach Andres Pedroso said. "I give all the credit to the guys, to the staff, the coaches. This is such a team effort. So many people have put so much time into a process like this. And the players are really special, really special."
The Atlantic Coast Conference sweep gave the conference 10 NCAA tennis championships. The ACC has won seven men's titles - six by Virginia and one by Wake Forest - and three women's titles (UNC, Duke, Georgia Tech).
The Triangle was guaranteed to have a team bring back a national title with the in-state rivals squaring off in the women's final.
The Tar Heels had won seven ITA Indoor Team National Championships, including the last four. But the NCAA team title remained elusive until Saturday.
Entering the all-ACC final, top-seeded UNC and No. 3 NC State had split the two previous meetings this season. UNC beat NC State 7-0 during the regular season in Chapel Hill before the Wolfpack handed the Tar Heels their lone loss 4-1 in the championship match of the ACC Tournament.
The rubber match came on the biggest stage with much more at stake.
NC State was playing in the first NCAA title match in program history. The Wolfpack secured their spot with a 4-0 win over No. 7 Stanford in the semifinal. The Tar Heels beat No. 4 Georgia 4-0 in the semifinal to reach the program's first national championship match since 2014.
The Tar Heels won the doubles point with Elizabeth Scotty and Carson Tanguilig beating Nell Miller and Amelia Rajecki 6-1 at No. 2, and Reese Brantmeier and Reilly Tran defeating Sophie Abrams and Abigail Rencheli 6-4 at No. 3.
NC State tied the match 1-1 after freshman Diana Shnaider, who was named the women's tournament's Most Outstanding Player, beat Brantmeier 6-3, 6-4 at the No. 1 spot.
But the Tar Heels won three straight in singles to secure the title. Fiona Crawley beat Alana Smith, 6-2, 7-6(2), at No. 2 to give Carolina the lead for good. Scotty and Tanguilig followed with wins in quick succession at No. 4 and No. 3, respectively. Scotty beat Abigail Rencheli 7-6(7), 6-3 and Tanguilig defeated Rajecki 6-4, 4-6, 6-3.
The Virginia and Ohio State title showdown was also a rematch of earlier-season matches. The Buckeyes defeated Virginia both previous times, defeating the Hoos 4-1 at Virginia in February and 4-0 in the consolation round of the ITA National Indoors.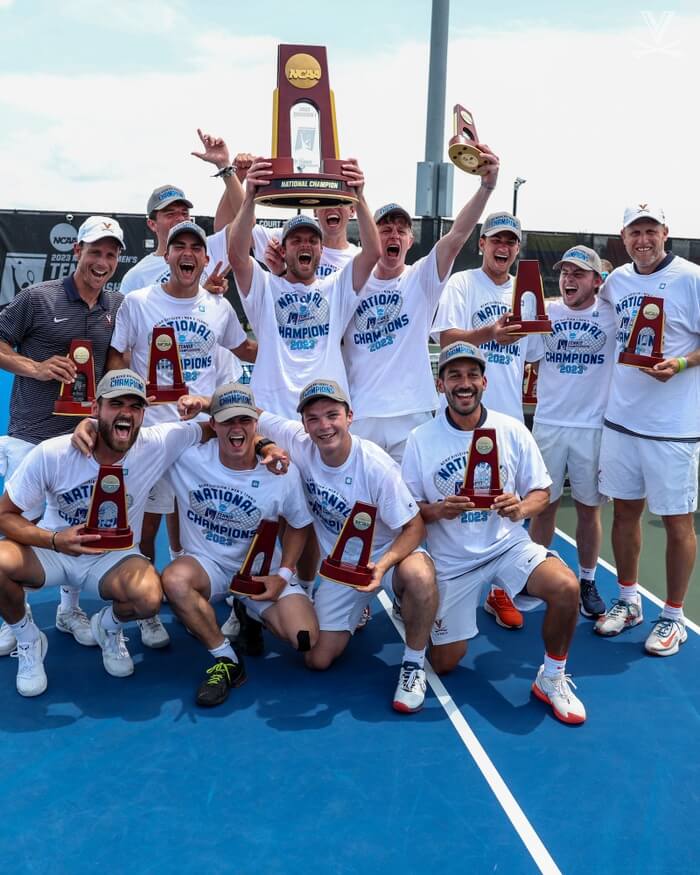 The UVA Men Defended Their NCAA Title
© UVA Athletics
But Virginia got revenge in the match that mattered most, and dealt the Buckeyes their third loss in an NCAA championship match (2009, 2018).
Weather forced changes in the men's schedule. Two of the men's quarterfinals on Thursday were pushed to Friday to complete. That meant the semifinals were played on Saturday and the final on Sunday, a day later than both were originally scheduled.
Virginia eliminated top-seeded Texas 4-1 in the semifinals and Ohio State beat No. 2 TCU 4-0.
In the final, Virginia rallied for the final two wins to capture the doubles point against Ohio State. Chris Rodesch and Jeffrey von der Schulenburg beat Andrew Lutschaunig and James Trotter 6-2 at the No. 2 spot and Iñaki Montes and William Woodall defeated Robert Cash and Justin Boulais 6-3 on court one.
Von der Schulenburg quickly increased Virginia's lead to 2-0 with a 6-2, 6-1 victory over JJ Tracy on court three. Rodesch put the Hoos one win away from victory with a 6-4, 6-2 win over Justin Boulais at the top spot.
That set up Montes for the clincher on court two. He delivered, securing the second straight NCAA title with an ace to close his 6-4, 6-2 win against Cannon Kingsley.
Virginia finished the season on a 22-match winning streak and did not lose an outdoor match all season.
"It just happened really fast," said Rodesch, who was named the men's tournament's Most Outstanding Player. "We had amazing body language all throughout doubles. Also in singles. Every time I looked over to Iñaki, the guy had his head up all the time. It gave me so much confidence. And then, at the end, it happened so fast. It's an amazing feeling."
Women's Final
No. 1 North Carolina 4, No. 3 N.C. State 1
Singles
1. #7 Diana Shnaider (ST) def. #8 Reese Brantmeier (NC) 6-3, 6-4
2. #1 Fiona Crawley (NC) def. #13 Alana Smith (ST) 6-2, 7-6 (7-2)
3. #28 Carson Tanguilig (NC) def. #26 Amelia Rajecki (ST) 6-4, 4-6, 6-3
4. #107 Elizabeth Scotty (NC) def. #87 Abigail Rencheli (ST) 7-6 (9-7), 6-3
5. Sophie Abrams (ST) vs. #100 Reilly Tran (NC) 6-4, 6-7 (2-7), 1-1, unfinished
6. Gina Dittmann (ST) vs. #38 Anika Yarlagadda (NC) 6-3, 5-7, 3-2, unfinished
Order of finish: 1,2,4,3
Doubles
1. #4 Diana Shnaider/Alana Smith (ST) def. Fiona Crawley/Abbey Forbes (NC) 6-4
2. Elizabeth Scotty/Carson Tanguilig (NC) def. #9 Nell Miller/Amelia Rajecki (ST) 6-1
3. Reese Brantmeier/Reilly Tran (NC) def. Sophie Abrams/Abigail Rencheli (ST) 6-4
Order of finish: 2,1,3
Men's Final
No. 5 Virginia 4, No. 3 Ohio State 0
Singles
#9 Chris Rodesch (VA) def. #24 Justin Boulais (OSU) 6-4, 6-2
#26 Inaki Montes (VA) def. #11 Cannon Kingsley (OSU) 6-4, 6-2
#49 J vd Schulenburg (VA) def. #22 JJ Tracy (OSU) 6-2, 6-1
#87 Ryan Goetz (VA) vs. #34 James Trotter (OSU) 6-4, 3-6, unfinished
Alexander Kiefer (VA) vs. #41 Alexander Bernard (OSU) 2-6, 6-3, 2-0, unfinished
Mans Dahlberg (VA) vs. Jack Anthrop (OSU) 6-7 (7), 0-1, unfinished
Order of finish: 3,1,2
Doubles
#58 Inaki Montes/William Woodall (VA) def. #21 Robert Cash/Justin Boulais (OSU) 6-3
Chris Rodesch/J vd Schulenburg (VA) def. #16 Andrew Lutschaunig/James Trotter (OSU) 6-2
Cannon Kingsley/JJ Tracy (OSU) def. Ryan Goetz/Alexander Kiefer (VA) 6-3
Order of finish: 3,2,1
About Diadem
College Content at TennisRecruiting.net is sponsored by Diadem.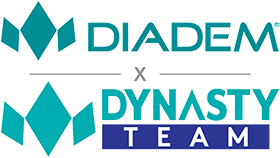 Diadem was founded in 2015 with a single goal in mind - develop the most innovative, high-quality tennis products in the world to help players maximize their performance. We found that the tennis industry had become stagnant, with very few brands that were challenging the status quo. With a team made up of former collegiate and professional players and coaches, Diadem set out to develop new and exciting products that catered to players of all levels looking to elevate their game.
Diadem is committed to supporting the growth of junior tennis in America and across the globe. Our Dynasty Team sponsorship program is unlike any junior tennis sponsorship program in the world. Beyond providing high quality equipment at a great price point for junior players we are continuously innovating to improve our players experience with the sport and to help them accomplish their goals. We give our athletes the "pro player treatment," to equip them with racket setups that are tailored to their game. We leverage our relationship with hundreds of college coaches across the country to help our players take their game to the next level. We're continuously evolving to better support our sponsored players from coast to coast!
Connect with Diadem on Facebook, Instagram, YouTube, TikTok and - or on their website.
Leave a Comment
More College Coverage
17-May-2023
Case Western Wins Historic Division III Title; CMS Repeats
The Case Western Reserve men won the first NCAA Division III team championship in school history on Tuesday night at the USTA National Campus in Orlando. On Wednesday afternoon, the Claremont-Mudd-Scripps women secured their second straight NCAA title.
17-May-2023
Barry Sweeps NCAA Division II Team Titles Again
For the fourth straight year, Barry swept the team titles at the NCAA Division II Championships. The Barry women won their sixth straight NCAA title by defeating Nova Southeastern while the Barry men secured their fourth straight national title with a win over Columbus State.
16-May-2023
Power-Packed Elite Eight Field Set for NCAA Division I
The men's and women's quarterfinals fields are set for the NCAA Division I Championships at the USTA National Campus in Orlando. Both reigning champions return to defend their titles while several programs are trying to break through for their first title. The women begin Wednesday and the men Thursday.
About Rhiannon Potkey
Rhiannon Potkey is a veteran sportswriter with more than two decades of experience in journalism. Potkey has covered many sports at many levels and has a passion for finding great stories. Potkey has covered the U.S. Open, junior sectional and national events, college conference championships and Davis Cup matches. Potkey is currently Content Strategist for Tennis Recruiting. You can reach Rhiannon by email at
[email protected]
.