by Marcia Frost, 2 March 2011
Junior players who are focused on turning professional almost always look exclusively at NCAA Division I schools when they are considering colleges. But playing in another division doesn't have to mean you don't stand a chance of having a career in pro tennis. Eric Butorac is one player who has proven that.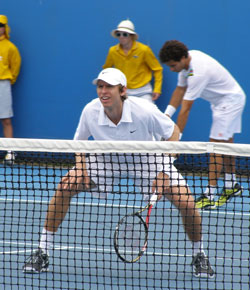 Former D-III player Eric Butorac has been succeeding as a doubles player on the ATP tour
© Marcia Frost,
College And Junior Tennis
It's not easy to make it on the pro tour. Many players don't make enough to break even by the time they pay for coaches, travel expenses and insurance. Eric Butorac may not be a household name, but as of February 11th, he is ranked by the ATP as the No. 30 doubles player in the world - with career prize money of over $660,000.
After a very successful 2010, Butorac began 2011 with a semifinal finish at the Australian Open with partner Jean-Julien Rojer, putting him in prime position for his best year ever.
The 2011 Australian Open ended for Eric Butorac in a match against the top doubles team in the world, former Stanford standouts Bob and Mike Bryan.
The path the Minnesota native took to professional tennis was far from ordinary as he played college tennis not for the Pac-10, but for Gustavus Adolphus, an NCAA Division III college. "I didn't have any expectations of playing professional tennis," says Butorac. "I was hardly even recruited by any schools. I just decided to go to a school with Steve Wilkinson, a really good coach and a guy that I knew could do a lot for my game."