College Commitment
Countdown: Denis Nguyen Heads to Cambridge
by Rhiannon Potkey, 24 March 2011
Attending Harvard always seemed like more than just a dream to Denis Nguyen. The five-star recruit considered the possibility a complete fantasy.
But it's become very real for Nguyen since he made a verbal commitment to play tennis for the Crimson.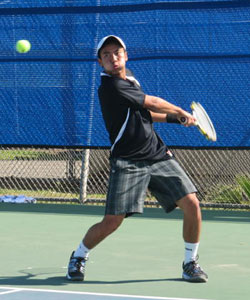 "I never actually believed I could get in until I started the recruiting process," said Nguyen, an Anaheim Hills, Calif., resident. "It's the most prestigious university in the world, and to be able to say I attend Harvard is going to be amazing."
Nguyen's credentials on and off the court warrant his admission to the Ivy League institution.
The senior has a 5.0 GPA in the International Baccalaureate program at Canyon High. He has never received a grade lower than an A in high school.
Nguyen came close to getting a B twice - in Advanced Placement Chemistry as a junior and AP Spanish this year - but he was able to pull up his grade by the final.
Academics are a high priority in the Nguyen household. Nguyen's parents are both dentists who graduated from UC Irvine and attended graduate school at Northwestern
"Education always comes first in my family," Nguyen said. "There is always the possible threat of injury in sports whereas an education is a constant and everlasting. It's very important."
Nguyen's academic inclinations are evident by the list of colleges he considered attending.
Along with Harvard, Nguyen made visits to UCLA, Cal, Stanford and Northwestern.
Nguyen said the Harvard coaches first spotted him at Winter Nationals when he was a sophomore, and they began corresponding through email during his junior year. He took his unofficial visit last March.
"I really loved the campus, and the Harvard coaches were really knowledgeable about the game of tennis," Nguyen said. "They can definitely help me improve. Plus, the city of Boston was amazing. All around, it was a perfect fit for me."