College Commitment
Spring Signing Week '11: McCourt Heads to the Tigers
by
Gary Curreri
, 14 April 2011
When Zack McCourt first tried tennis lessons at age six, he hated it.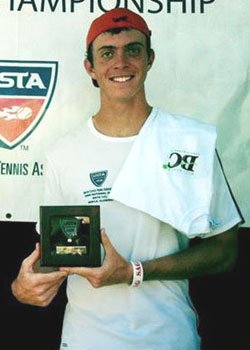 "I absolutely hated it," McCourt said emphatically. "I gave it another shot when I was nine, and played once or twice a week, but finally fell in love with it when I was 10."
Fast forward eight years and McCourt, 18, of Sunrise, Florida, is headed to Princeton University.
"Most of the kids start when they are 6 or 7, so I had a little bit of ground to make up, and I think I did," said McCourt, a senior at The Sagemont School in Weston. By 11, McCourt was practicing full time at the Bill Clark Tennis Academy upon his return to Florida. He lived in Atlanta from age 6-10 and has been with Clark ever since.
It has paid off dividends for the talented player who ranks academically among the top five percent in his school. McCourt is currently ranked number 12 in the United States in Boys 18s, and number one in Florida.
His biggest career win and first gold ball came recently at the Boys 18 & Under USTA National Spring Championship in Mobile, Alabama where he defeated Austin Smith of Cumming, GA in three sets, 4-6; 6-3; 6-1.
"Next to signing with Princeton, it was by far my biggest achievement," said McCourt, who also received the sportsmanship award at the tournament after helping set up nets for a local Quickstart program while on the verge of cramping.
McCourt said when he began high school, he always envisioned heading to an Ivy League school and was recruited by the "big three" - Harvard, Yale and Princeton. He said he was looking for a combination of a top academic institution, and at the same time wanted to go to a place that he could take it to the next level in tennis.