News & Features
Special Feature
Go For Every Ball
by
Nick Bollettieri
, 29 April 2011
I want to share a story with you that I tell all my students when they come through the IMG Bollettieri Tennis Academy that will help you win more points on the tennis court. The concept is simple, but executing it is much more difficult.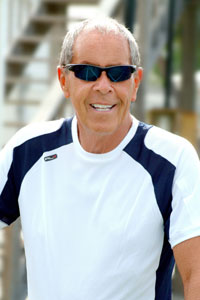 Richard Williams, father of Venus and Serena Williams, and his family have and always will be a very special family to me. I can remember when I first met Venus and Serena; they were 10 and 11 years old. It was extremely important that I understand everything about the girls at that time and what made them so special.
A few years later, Richard and Oracene asked me to spend some time working with the girls, which included travelling with them. During my first few practice sessions, it became apparent to me that these girls were unique and it wouldn't take them long to make their mark on the WTA Tour.
Our practice sessions were not just simple practice sessions, the atmosphere was more like playing in the finals of a Grand Slam. One interesting thing that I noticed immediately was that the girls would run for every single ball, no matter where it bounced on the court, including some that were out by several feet. After this happened a few times, I asked the girls why waste your energy when there was no doubt that the ball would be out by several feet? They answered, "When we first started to play tennis our daddy explained a few rules we had to follow with no exception." The first rule was:
"Girls, when you see the ball coming over the net you will see it with your eyes and also your second set of eyes (your brain). As soon as this happens react to the ball with your feet and know that you can reach the ball."
This simple tip was repeated to the girls over and over again and became an instinct reaction because it was repeated day in and day out and made it possible for the girls to retrieve shots that were clearly winners against most other players.
This Article Is Available Only to Recruiting Advantage members
Please log in to access premium TennisRecruiting.net content.
| | | |
| --- | --- | --- |
| LOG IN | | NOT REGISTERED? |