Where Are They Now?
Talking With Jesse Levine
by
Harry Cicma
, 18 April 2011
Special from
NBC Sports
If you've followed American junior and college tennis over the past few years, you probably recognize the name Jesse Levine.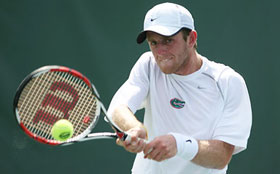 Former
Florida
standout Jesse Levine
courtesy, Florida Athletics
After a stellar junior career, Levine played college tennis at
Florida
. In his lone season playing No. 1 for the Gators, Levine was named
National Rookie of the Year
by the
ITA
while leading the Florida team to the round of 16 and fighting through to the quarterfinals in both singles and doubles.
Since leaving Florida, Levine has been playing on the ATP tour. Harry Cicma of NBC Sports recently sat down to talk with Levine after he reached the second round of the Sony Ericsson.
Questions and Answers
Harry Cicma (HC): How is life on the ATP Tour going?
Jesse Levine (JL): Life on the tour is going really well. A lot of traveling - and a lot of tennis. But that's what I signed up for.
HC: What has been your most memorable experience on the Tour?
JL: That would have to be making the third round of Wimbledon and beating Safin. I grew up watching him on TV, and then suddenly I saw him on the other side of the net. That was a surreal experience.
HC: How did your experience at Florida help prepare you for the top level of tennis?
JL: My experience at Florida was amazing. Coach Jackson and Coach Bayon are two of the best coaches out there. Playing there helped me really prepare for the big leagues.
Florida was an amazing atmosphere. It not only helped me mature as a tennis player on the court - but off the court as well. And it was a great time to be a Gator... I was there when Florida won national championships in football and basketball during the same year!
HC: Many players chose not to go to college. What lead to your decision to attend Florida?
JL: Deciding to go to Florida was pretty simple. I saw that Coach Jackson and Coach Bayon had a program to help develop players to continue onto the pros. They supported me in playing pro tournaments while I was in school.
HC: The SEC is one of the most competitive conferences in NCAA tennis. How did the competition differ from ATP level players?
JL: Every match in the SEC is tough. Everyone can play. The biggest difference between college tennis and the pros is the mental aspect of the game. The pros are obviously a lot tougher upstairs than college players. There are more demands physically as well.
HC: You and John Isner have been great friends on the tour. Tell me about that friendship.
JL: John and I are really good friends. And we have that Georgia - Florida rivalry... or should I say Florida - Georgia. (Laughs) He is a great guy on and off the court, and we always joke around when Florida plays Georgia in any sport.
HC: If you had to give advice to a young American player looking to make it in college tennis, what advice would you give?
JL: I would say go to college and at least experience it. It really is the opportunity of a lifetime. Don't look at it as if you can't go pro. I mean, look at a lot of the pros now - lots of them have gone to college, and they are proving that it is can be a great stepping stone.
About YONEX
We are honored to have YONEX as the presenting sponsor of our Where Are They Now? article series at TennisRecruiting.net.
YONEX

YONEX is a successful global company with its corporate headquarters located in Tokyo, Japan. Subsidiary companies operate around the world, including the United States, the United Kingdom, Germany, Canada, Taiwan and China (Golf). YONEX continues to be driven to produce the most technologically advanced sports equipment to enable players, both amateur and professional, to play their sport at a higher level.
Connect with YONEX on Facebook, Twitter, Instagram, YouTube, and Pinterest, - or on their website.
Leave a Comment
More "Where Are They Now?" Features
12-Sep-2017
Where Are They Now?: Sheeva Parbhu
After graduating from Notre Dame and spending a few months on the professional tour, Sheeva Parbhu decided to pursue a career in medicine. He recently finished his residency at the University of Utah hospital and has started his fellowship in internal medicine.
7-Aug-2017
Where Are They Now?: Nicole Leimbach
Nicole Leimbach was the No. 1-ranked girl in TRN's initial 2004 class. After suffering a career-ending ankle injury on the pro tour, Leimbach decided to go back to school to become a pharmacist
19-May-2017
Denver Graduate Henry Craig Begins Pro Career
Unlike most Southern California juniors, Henry Craig went east to play college tennis, landing at the University of Denver after an excellent junior career. A blue chip recruit ranked as high as No. 7 in the class of 2012, Craig played at line 1 from his sophomore through his senior years for the Pioneers. After graduating in December, Craig decided to pursue professional tennis. Colette Lewis spoke with Craig in Ojai where they talked about college tennis, the transition to the pros, and beyond.
About Harry Cicma
When it comes to college tennis, Harry Cicma is your man. Cicma covers tennis and other athletic stories for
NBC Sports
, writing articles and producing video segments.
He is co-founder and host of World Tennis a weekly tennis show on NESN, and host of of Tennis Live Radio's College Corner.
Cicma competed as a junior in USTA/New England and went on to play college tennis at Rutgers University. As a professional, Cicma competed at the ATP Newport tournament and the San Jose Siebel Open. He reached a career-high #75 in the ATP doubles team rankings and #1262 in the ATP Entry System.
In media, Cicma has run the gamut. He has worked for NBC, CBS, ABC, ESPN, FOX Sports Net, the Tennis Channel, and World Team Tennis. Cicma has announced NCAA sports as well as the US Open Tennis Championships on both TV and radio.