Who's Hot?
Prince Hot 100 List - April '11
by Amelia Thomas, 20 April 2011
Junior tennis players compete year-round, but this time of year yields the best playing conditions - warm weather, school coming to a close, and competitive attitudes. Players on the Prince Hot 100 used these conditions to their advantage last month, and we got in touch with a few of those recruits.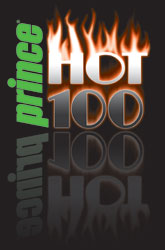 The Prince Hot 100 lists are published each month, and the April Hot 100 lists feature the one hundred boys and girls who most improved their ranking during the month of March. You can find out more about the Prince Hot 100 - and how the lists are calculated - by reading here.
The latest lists, published earlier this week, are available here:
We caught up with a few of these players...
Roundup
Matthew Dunn (Tucson, Ariz.)
At 6-foot-4, 3-star junior Matthew Dunn recognizes his physical strength as his most beneficial attribute when it comes to tennis. With his height and 76-inch wingspan, Dunn has what his parents describe as an excellent ability to adjust his shots and footwork.
Additional weight training, footwork and other drills with coaches John Perry and Bill Wright have only added to Dunn's agility. They have specifically been working on developing Dunn's forehand and serve.
Although his physical makeup is impressive, Dunn believes mental strength is just as important during training. "You can never get enough mental strength practice, and John is the best in Tucson when it comes to coaching toughness," he said.
Dunn put his two greatest strengths to good use last month at the Sun City Junior Championships, in a match against blue-chip recruit Nathan Ponwith, the then number-one recruit in the class of 2016. "Even though he's 12 years old, [Ponwith] provides a very difficult challenge and was the ideal opponent for me to try my new skills," Dunn said.
Although he fell behind in the first set, Dunn rebounded in the second and third to win 6-4, 7-5. He then went on to win the finals in three sets. Dunn also won the third-place playoff in the Cactus Cup, bringing his total victories to seven, with just one loss for the month of March.
Dunn shines not only in tournament play - but also for his high school team. He serves as captain of the tennis team at Salpointe Catholic High, a position that requires important leadership and management abilities. "Matthew's leadership skills have spilled over into his USTA Junior tennis game, and have also added to his confidence," Dunn's father, Chuck Dunn, said.
Additionally, Matthew Dunn's leadership skills have allowed him to help others, by starting a community charity tennis group, Big Swing Tennis, with friend Neeko Gardner. Dunn and Gardner donate their time and tennis talents to teach underprivileged children how to play, using the new quick-start technology. Big Swing Tennis has become a great success, and is expanding - now with seven instructors.