Tournament Summary
Escobedo and Shishkina Win 14s, Brymer and Doyle Take 16s Titles at 44th Easter Bowl
by
Colette Lewis
, 25 April 2011
The four singles champions in the 14s and 16s divisions at the 2011 Easter Bowl didn't come into the tournament as favorites; none of them were seeded among the Top 4. Yet the quartet of Maria Shishkina, Ernesto Escobedo, Caroline Doyle and Gage Brymer were able to overcome the scorching temperatures and highly-ranked opponents to collect gold balls at the Rancho Las Palmas Resort and Spa in Rancho Mirage, Calif.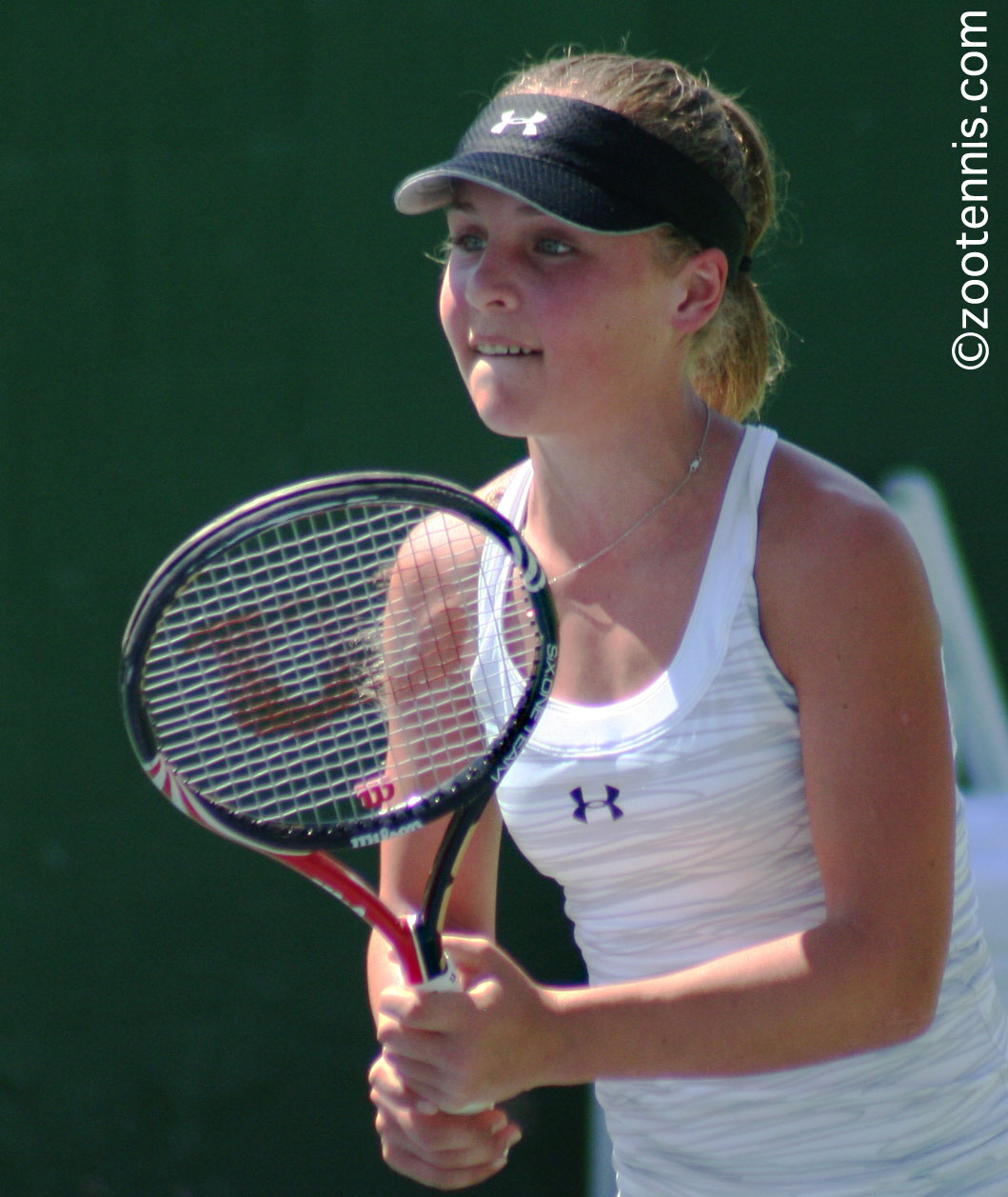 Shishkina's path to the girls 14s title was a smooth one - in her first six wins the confident 12-year-old
Nick Bollettieri
protege conceded only 16 games. But the fifth seed faced several mental challenges in the final against No. 8 seed
Katerina Stewart
. Shishkina had had to settle for silver balls in her two previous USTA National finals - at the Clay Courts in 2009 and
2010
- and in February, she had lost to Stewart at a
National Open
. That history didn't faze her however, as she convincingly defeated Stewart 6-1, 6-4 for the gold ball.
Determined to put aside the disappointment of last year's Easter Bowl quarterfinal loss, Shishkina rolled through the opening set, breaking Stewart twice, while using her powerful groundstrokes to keep Stewart on the defensive. In the second set, Shishkina again took a big lead, but she stumbled for the first time when serving for the match, double faulting at 5-2, 30-40. Stewart held in the next game to make it 5-4, but there would be no drama in the final game, as Shishkina served it out.
"I loved how I played," Shishkina said after the match, crediting her serve as a factor in avenging her previous loss to Stewart, which was on clay. "I wanted to win so badly. I had to stay consistent, because she made some mistakes, but she's a great player, and I just tried to do my best."
Stewart thought the hard courts definitely gave Shishkina an advantage in this edition of their rivalry.
"I think on hard courts she can easily take the balls on the rise, better than on clay," said Stewart, who trains with her father at the Next Level Tennis Academy in Miami. "On clay, my style of ball jumps up higher than normal, so it helped me last time."
Asked what makes Shishkina such a good player, Stewart had a ready answer.
"She's not just a regular aggressive baseliner, she's a consistent one," Steward said. "It's hard to make her miss."