Special Feature
Wilander's Words of Wisdom
by
Colette Lewis
, 11 May 2011
Mats Wilander, a seven-time Grand Slam singles champion, has devoted his life to tennis, and at age 46, says he still views himself as a professional tennis player. Calling himself a "camper at heart," Wilander has organized "Wilander on Wheels", a Winnebago-based traveling clinic he conducts with former Naval Academy standout Cameron Lickle.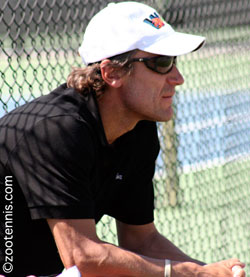 Champion Mats Wilander remains very involved in tennis
©
ZooTennis.com
Wilander, who lives in Sun Valley, Idaho with his wife and four children, is also a Senior Advisor for the
Junior Tennis Champions Center
in College Park, Md., a USTA Regional Training Center. While assisting the JTCC junior players at last month's Easter Bowl, Wilander also headlined the tournament's annual seminar for coaches, parents and players.
Speaking for nearly an hour, Wilander touched on his many career highlights, the strengths of the current top players, what he's learned during his decades in tennis and what he observed while watching the juniors in competition during the early rounds of the Easter Bowl. For reasons of space and clarity, both the introduction and the question and answer segment have been edited and compressed, with emphasis on those comments having the most relevance to junior development.
Opening remarks
This is the way I did it, but there are many ways you can do it. I know it works this way, because I did it and I had a really good career. I think I reached my potential, at some point. There are many ways to do it and I think you boys and girls have heard this a million times, because as coaches, we pretty much preach the same thing.
I've been watching you all here today, and I'm very impressed with the fitness, very impressed with the speed, impressed with the physicality of your games. The best athletes aren't necessarily the best ball strikers, but they're the best movers. It's always been like that and it probably always will be. That's the wheels, in Wilander on Wheels.