College Commitment
2012 Commitment: Yates an Early Lady of Troy
by Rhiannon Potkey, 6 July 2011
Ellie Yates has learned that certain acronyms are translated differently in different parts of the country.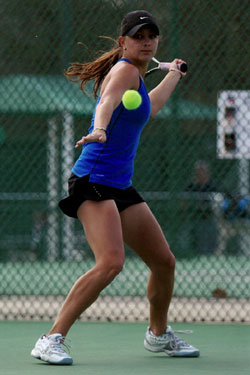 Yates, a blue chip recruit from Mississippi, recently made a verbal commitment to play tennis at USC.
Most locals have assumed she is heading to the University of South Carolina.
But Yates has to correct them.
She is heading to the West Coast to attend the University of Southern California.
"I don't know how many people have asked me that. I am like, 'No. Southern California, not South Carolina,'" Yates said. "I mean it is extremely different being from down here."
Yates, who lives in Ridgeland, Miss., is entering her senior year at Jackson Academy.
When Yates first began exploring her college options, she was focused mainly on schools in the South.
But she decided to broaden her search after USC assistant coach West Nott sent an email asking if she wanted to make a visit.
"I didn't think anything of it at first. But once it got down to a few schools, I didn't feel any of them were really a good fit," Yates said. "I contacted West again and we started emailing more to set up a visit."
Yates was pleased to discover on her first visit that hospitality is not just reserved for the South.
"I went on the day of graduation and the team was at NCAAs. But we stopped and asked people a bunch of questions and they were so friendly," said Yates, who has an aunt living in Los Angeles. "They were nice about everything and took time to show us around. It was great."