Clay Court Championship Week
Porter earns two titles at 16s Clays
by Sonny Dearth, 26 July 2011
Special from the
Newport News (Va.) Daily Press, HRVarsity.com
VIRGINIA BEACH -- It's hard to tell which was higher at the USTA Girls' 16 National Clay Court Championships: the record-threatening temperatures or Peggy Porter's confidence.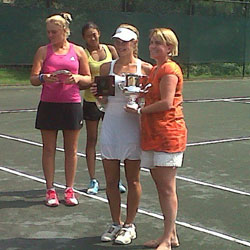 Porter, from Dallas and seeded sixth in a field of 192, earned her first USTA gold ball with a breakthrough performance at
Virginia Beach Tennis and Country Club
.
After twice rallying from a set behind with the thermometer near 100, the blonde T-Bar-M star rolled. In the title match July 24, she defeated No. 18 Keisha Clousing of Wheaton, Ill., 6-1, 6-2 in a duel of rising 10th-graders rated as Blue Chip prospects by tennisrecruiting.net.
About an hour later, Porter came back with Laura Patterson of Roswell, Ga., to win the doubles championship. They beat Julia O'Loughlin of Lighthouse Point, Fla., and Cristina Rovira of Boca Raton, Fla., 6-1, 6-3, completing a second set they led 2-1 the previous afternoon before lightning and hail intervened.
In the 24 years this event has been held in Virginia Beach, longtime tournament director Laurie Hackbirth couldn't recall any singles champs earning a share of the doubles crown.
"I'm really excited, super-happy," Porter said. "I just played really well.
"I'm pretty tall (5-foot-9). In my lessons, I just work on getting my rally ball bigger and more powerful so I can hang with better girls." To combat the heat, "I was taking ice baths, and that helped a lot."
T-Bar-M's Joey Rive, a former touring pro and men's coach at Texas Christian and Alabama, said he has worked with Porter for about three years.
"She came with sort of a defensive game, and our focus was to be a lot more offensive, 'hurt' some girls. It's been just beautiful to see her have it all come together this week," Rive said.