Tournament Preview
Sock Returns to Kalamazoo to Defend Title
by
Colette Lewis
, 5 August 2011
With his eye on a return trip to the US Open main draw, 2010 USTA Boys 18s champion Jack Sock is back in Kalamazoo this year, both to defend his title and begin his professional career.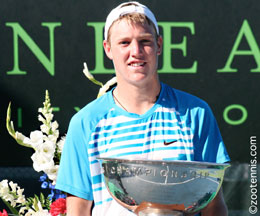 Sock, who last year lost in the first round of the US Open men's draw after winning the wild card that the USTA awards the National champion, still left New York a winner, capturing the US Open junior singles title, the first for an American boy since Andy Roddick's in 2000.
Since that victory, Sock has competed in Futures and Challengers, testing the professional waters as an amateur, while winning his fourth straight high school championship in Kansas. After graduating from Blue Valley North High in May, the 18-year-old Nebraska native began a serious assessment of his future, and last month he decided to sign with CAA Sports, a management agency, rather than attend college.
Sock, the top seed in Kalamazoo this year, can assure himself not only his 22nd gold ball, but a $19,000 US Open paycheck if he can win the wild card again, but a strong field is hoping to deny him back-to-back titles.
Mitchell Frank, who will be entering the University of Virginia this fall, is the second seed, and he too has spent most of the past year playing on the Futures circuit, where he reached two semifinals and a quarterfinal in the past month. The 18-year-old from Virginia also has a victory over Sock at the 2009 Orange Bowl, adding intrigue to a possible meeting in the final.
Third seed Bjorn Fratangelo is also a favorite, having reached a Pro Circuit Futures final and quarterfinal this summer since his return to the United States with the French boys championship, the first by an American boy since John McEnroe in 1977. Fratangelo and Sock's presence in the draw marks the first time since Kalamazoo became a closed event in 1978 that two reigning junior slam champions are vying for the title. Pittsburgh's Fratangelo, who recently turned 18, is now No. 3 in the ITF World Junior rankings.
Fourth seed Marcos Giron swept the International Spring Championships and the Easter Bowl this year, proving he is very comfortable on the Deco-Turf surface those tournaments share with Kalamazoo. As the 2009 Kalamazoo 16s doubles champion, Giron, who recently turned 18, has already collected one gold ball in Kalamazoo and has had success internationally this summer as well. The Thousand Oaks, California resident, who will enter UCLA this fall, reached the round of 16 at both the Roland Garros and Wimbledon junior championships, and owns two wins over Fratangelo this year.