Recruiting Profile
From Judo to Tennis, Luca Corinteli takes the lead
by Marcia Frost, 29 August 2011
Luca Corinteli has made it to the top of the national rankings and recently won the title at the USTA National Boys' 16 Clay Courts. It was his first Gold Ball for singles, but certainly not the only first prize he's taken. Corinteli has many trophies on his mantle from a sport that most tennis players know nothing about - Judo.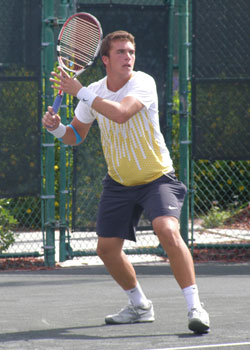 While most junior tennis players talk about starting to train when they were six years old, Luca Corinteli wasn't even thinking about the courts. His mind and training time were focused on judo.
"I fought judo for about seven years. I was pretty good at that," says the 16-year-old. "I won four Junior Olympic titles in a row. I was always bigger than all the kids my age, so when I was six I was winning in the eight-and-under; when I was seven I won in the nine-and-under; and when I was eight I won in the ten-and-under."
Corinteli was born in New York and spent his first eight years in the Queens borough of New York City. It's the area his parents moved to, but not where they are from originally, "Both my parents are from Georgia, just outside of Russia. My grandparents, uncles, everybody's from Georgia. I speak fluent Georgian, Russian and English."
When Corinteli was eight, the family moved to Alexandria, Virginia, and he left his judo coach behind. "I had an incredible coach there. He is someone I still keep in touch with," he acknowledges. It was about that time he began to think more about playing tennis, and the judo had to take a backseat, "I still love it. I still keep in touch with my friends I was doing judo with. It's an incredible sport. I still love it, but I don't get to do it, obviously."
As a 6'3", 210 pound tennis player, Corinteli finds advantages in his judo training.
"I think being a fighter - with that mindset - helps a lot in tennis. You have to battle the heat, your opponent, and sometimes yourself. You have to come out and do that every single day. I think judo helped me a lot."