Who's Hot?
Prince Hot 100 List - August '11
by Amelia Thomas, 22 August 2011
Although the start of a new year of school is looming and the last days of vacation filling most people's time, some junior tennis players have nothing but tennis on their mind. Some of those who performed particularly well last month show up in the latest edition of the Prince Hot 100.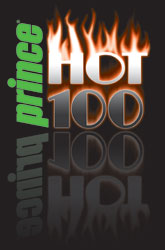 The Prince Hot 100 lists are published each month, and the August Hot 100 lists feature the one hundred boys and girls who most improved their ranking during the month of July. You can find out more about the Prince Hot 100 - and how the lists are calculated - by reading here.
The very latest lists, published earlier today, are available here:
Let's check in with some of these players...
Roundup
Victoria Olivarez (Virginia Beach, Va.)
Before her appearance on the Prince Hot 100 List this month, four-star sophomore Victoria Olivarez wasn't achieving the results she hoped for in many major national tournaments. What she called a "wake-up call" didn't come until a conversation with her coach, Ryan Davidson of the Virginia Beach Tennis and Country Club, after one particularly disappointing tournament.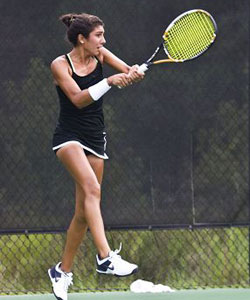 "I told [Davidson], 'I don't get it. I have great wins, but they don't get me where I want to be,'" Olivarez explained. "[Davidson] said, 'It's just the ability to go out there every match and lay it all out on the table. Play the match the way you want to play it and stay positive.'"
The very next weekend, Olivarez went to Mobile for a USTA Regional Tournament and brought home the title - as well as a significant increase in her confidence. "I give credit to my coach and myself," Olivarez said of this drastic change in her play. "He pushes me to keep going, and I love it."
The USTA Regional Tournament was the first of several successes. Olivarez posted six wins in the National Clay Court Championships in Virginia Beach and a perfect 5-0 record at Zonals in Winston Salem, N.C. Her 18-4 record in July - including six wins over opponents rated 5 Stars or better - pushed her into the Top 100 in the Class of 2014.
Olivarez continued her inspired play in August, winning seven matches at the Girls' 14 Nationals on her way to winning the Northeast consolation draw. She achieved a career-best ranking of No. 62 last week.
One of Olivarez's favorite wins last month came at the Montgomery National Open against blue-chip sophomore Julia O'Loughlin. Olivarez went into the match determined to make up a rough loss to five-star junior Macie Elliott in the previous round. Olivarez was able to take the first set, 6-3, but her confidence dwindled in the second, causing her to lose, 2-6. At the bench, Olivarez's mother, Teresa Olivarez, reminded her of her mental game.
"'She said, 'if you want this, you have to get your head back in it,'" Olivarez said. "'What would [Davidson] say about your serve? Just get the point started and work from there.'" Returning to the court with renewed motivation, Olivarez took the tiebreaker, 10-7.
Having achieved a notable ranking and a satisfying win, Olivarez has many plans for the future of her game. She hopes to attend a Division I college, particularly looking toward UCLA, Pepperdine and Stanford.