Commitment Profile
Countdown: Brooke McAmis a True Maroon Cougar
by
Ali Jones
, 5 November 2011
As she began her college search, Brooke McAmis was told by a good friend that "when you visit a school, you'll just know." And when she went to the historic College of Charleston, she knew. It was love at first sight for the five-star athlete and she has decided to make an early commitment.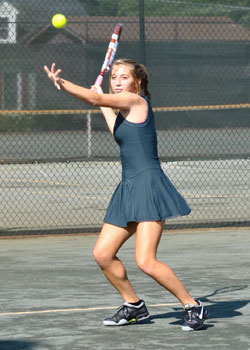 "The town is so much fun, there's a lot to do there," she said. "The school is a great school and I think Coach [Angelo] Anastopoulo will help my tennis a lot. The group of girls on the team is a great group and I think I'll fit right in."
She considered leaving her home state of North Carolina for the colder climate of Ohio but the historic charm of Charleston and the academic reputation of the College convinced her to stay in the South and closer to her family.
"I thought I would fit in better at Charleston," she said.
The College of Charleston, established in 1770, is a nationally recognized public university set in the heart of one of the most important cities in American history. Today, it maintains its traditions and leads the country in historic preservation but is a vibrant, lively city that is attractive to the younger crowd such as McAmis.
"The beach is only 20 minutes away," the incoming Cougar said. In addition, there's the annual Spoleto Arts Festival, a food and wine festival and a fashion week.
McAmis, the youngest of three girls, has been into sports ever since she can remember. She plans to pursue a communications degree and hopes to land a sports broadcasting job that can fuel her interest and knowledge of sports.
The senior from Southeast Guilford High School had been on the courts from a young age, as her parents are both recreational players who took their three daughters to the tennis club. More competitive than her sisters, she thrived on the challenges of tennis, loved the feeling of winning and pursued the sport further than her sisters did.