Who's Hot?
Prince Hot 100 List - September '11
by Amelia Thomas, 20 September 2011
While most schools are back in session, today we look back on the last months of summer vacation, when junior tennis players tried to squeeze out just a few more wins before the start of school. Some of the more impressive performances surface in this month's Prince Hot 100 Lists.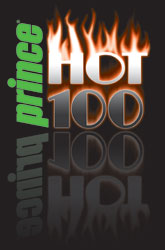 The Prince Hot 100 lists are published each month, and the September Hot 100 lists feature the one hundred boys and girls who most improved their ranking during the month of August. You can find out more about the Prince Hot 100 - and how the lists are calculated - by reading here.
The very latest lists, published earlier today, are available here:
We talk with a few players who turned in strong performances...
Roundup
Cameron Daniels (Oakland Gardens, N.Y.)
Unlike many players, three-star sophomore Cameron Daniels is the first in his family to compete in tennis. The Oakland Gardens native developed his own interest in the sport with a little help from his grandparents, who would often watch tennis when Daniels was young. Eventually, he asked his grandparents to play with him in the parking lot of their residence.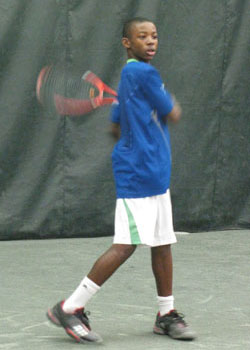 This is the sort of self-motivation that dictated Daniels' summer workout this year. Due to the flexibility of a summer schedule, Daniels was able to play nearly six hours every day. He focused mostly on fitness, which he believes contributed greatly to his success last month. "That definitely helped me because I [was] in a lot better shape than most of my opponents," the right-handed player said.
The investment in conditioning allowed Daniels to develop a new strategy for his game. "I would describe myself as mostly a counter-puncher who relies heavily on my footwork," he said. Rather than intense power shots and strong serves, Daniels uses his physical fitness to move his opponents around the court, keeping his game consistent and waiting for his opponents to make mistakes.
Daniels was able to use this strategy in a match against four-star junior Brandon Stone in the quarterfinals of the Dan Dwyer Memorial Championships. "Brandon is a good friend of mine... I was really looking forward to playing him," Daniels said. After he dropped the first set 7-6 (7-4), he "really didn't feel discouraged," Daniels said. "I noticed that he was a little fatigued and would take a lot of time between points, and I didn't feel too tired at all. He began to miss a lot of shots, which is very uncharacteristic of him."
Daniels won the second set 6-2 and the third-set super-breaker 10-1. "I felt so good because this match really showed how all of my hard work paid off," Daniels said.
Daniels also competed in two additional tournaments in August, reaching the finals of the Harlem Week Summer Championship and winning the EmblemHealth BIYTC Championship. He finished the month of August with a 9-2 record.
In addition to his success in tournament tennis, Daniels also holds the position of starting point guard for his high school basketball team and enjoys playing recreational baseball and football with friends. However, Daniels focuses most of his efforts on tennis, and hopes to attend a college with a good athletic and academic balance. "I would prefer a college close to home, but I am still open," Daniels said.