Commitment Profile
Countdown: Fotopoulos Commits to Lady Vols
by Rhiannon Potkey, 19 October 2011
Mimi Fotopoulos had one thing on her mind after committing to play for the University of Tennessee.
Fotopoulos needed to spruce up her wardrobe with a bright shade of orange. She headed straight to the bookstore on campus.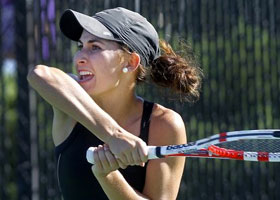 The shopping spree netted more items than she ever thought possible.
"I was so surprised because a lot of schools don't have tennis stuff, but they had a whole section with bumper stickers, shirts and sweatshirts for Tennessee tennis," Fotopoulos said. "My poor dad had to pay, but I had a birthday coming up and I went crazy."
The Lady Vols are hoping to reap even bigger dividends from Fotopoulos on the court once she arrives in Knoxville for good.
Fotopoulos wanted to play in either the Southeastern Conference or the Atlantic Coast Conference.
The Prairie Village, Kansas resident took several unofficial visits to colleges last spring to make sure her final decision was sound.
It soon became clear that the SEC program with the "Rocky Top" fight song and fervent fan base was the one Fotopoulos wanted to join.
"Once I got to Tennessee it was everything I could have possibly wanted," Fotopoulos said. "They have two incredible coaches and amazing facilities. They just built two new indoor courts and everything is brand new. I fell in love the second I saw it."
Tennessee is co-coached by the husband-wife tandem of Mike Patrick and Sonia Hahn-Patrick. In what amounted an added incentive for Fotopoulos was that Hahn-Patrick plays two-handed on both sides like Fotopoulos.
"No one ever really does that. It's so unbelievable because she was obviously a top WTA player and I am so eager for her to coach me on that," said Fotopolous, a senior at Shawnee Mission East High School. "I've never had any coaching of any kind for being two-handed."
Fotopolous comes from a tennis family.
Her father played in college and for the Greek Davis Cup team, her mother played tournaments and her older brother, Chris, plays for the University of Oklahoma.
Even her aunts, uncles and cousins have competitive experience.
Fotopolous joined the fray by tagging along with her brother to the courts around age 7. She started by hitting balls on the court in her grandparents' back yard in Oklahoma.
"I played all sports growing up, and then one day I told my parents I just want to play tennis," Fotopolous said. "They were kind of shocked because I wasn't really that into tennis at first. I was actually a competitive figure skater, but I decided I didn't really want to do that anymore."