Commitment Profile
Countdown: Willenborg Headed to Penn
by
Gary Curreri
, 10 October 2011
Athleticism runs in the Willenborg family.
Blaine A. Willenborg is the latest member of the family to make his mark in the tennis world and has committed to attend the University of Pennsylvania next year.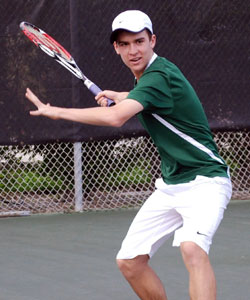 "I have two sisters and both of them won state championships for their sport," said Willenborg, 17, of Miami Shores, who has been at
Pine Crest School
in Fort Lauderdale since the eighth grade. "Mallory is the middle child and she won two high school team state championships for St. Thomas Aquinas in tennis. The eldest child, Blair, won a team state championship in track for St. Thomas as well."
On his dad's side, three siblings captured NCAA national championships.
"My dad (Blaine Sr.) won two for UCLA (1979 and 1982) and his brother, Chuck Willenborg, won a national championship in tennis at UCLA," Blaine Jr. said. "Another sibling, Jim Willenborg, won a national championship in soccer at the University of Tampa (Division II).
Willenborg first picked up a racquet when he was 4 and has been playing tennis competitively since he was 8. It was around the same time that Mallory started playing competitively.
Willenborg was introduced to the sport by his father, Blaine Willenborg Sr., 51. The elder Willenborg won seven doubles titles and finished runner-up an additional nine times while playing professionally. He achieved a career-high doubles ranking of No. 13 in the World in 1988, while his career-high singles ranking was No. 50, which he reached in Sept. 09, 1984.
Willenborg said there is no added pressure as he follows in his father's footsteps.
"Although it may seem tough on me that my father played on the pro tour, he reminds me all the time that as long as I do my best and compete as hard as I can, he is proud of me," Blaine Jr. said. "He always states how he never won a singles tournament on the pro tour - and that there are many losers and one winner. This reduces the pressure significantly to the point where I am the one putting pressure on myself."