Commitment Profile
Countdown: Blue Chip prospect Vrabel reflects on commitment to Notre Dame
by Sonny Dearth, 1 November 2011
On the rare occasion when she isn't playing tennis or studying, Blue Chip recruit Julie Vrabel enjoys art.
"I've taken art lessons since I was 5 years old," she says. "It's one of my relaxing pastimes."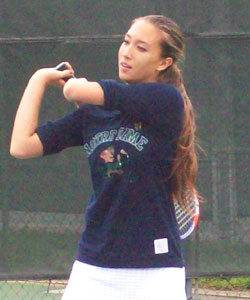 Don't be surprised if she draws some four-leaf clovers in the next few years to display her new school spirit.
Vrabel, from the city of Centreville in Northern Virginia, has committed to attend Notre Dame in August and play for the defending Big East Conference champion Irish.
But when she began investigating her college prospects, little did she know she'd head there.
Vrabel, noted for her poise on and off the court, is ranked 25th nationally, fifth in the Mid-Atlantic Section and first in Virginia among the current senior class.
"My college search started in December, and Notre Dame wasn't on that list," she says. "I wanted to study pre-med, and I started narrowing down schools."
Vrabel, who will turn 18 in November, said the Irish moved on her radar when then-assistant coach Julia Scaringe e-mailed her and asked if she and her family would like to come on an unofficial visit. Scaringe has since relocated to Florida, but that e-mail proved to be quite a revelation.
"I was really excited to go on my visit," she says. "I saw Notre Dame, Northwestern and Michigan in one weekend. It was such a fun experience."
Vrabel says the weather on her trip to South Bend, Ind., "was like 40-some degrees and raining, but the campus was beautiful, and the people there were different than I was used to."
She especially liked something she discovered about her planned major.