Commitment Profile
Countdown: Kyle McPhillips heads West to UCLA
by
Ali Jones
, 11 October 2011
Kyle McPhillips can hardly wait to hit the courts in sunny Southern California as a UCLA Bruin freshman next fall. In fact, the blue-chip recruit from the Cleveland suburb of Willoughby, Ohio, is already packing her suitcase in her mind's eye.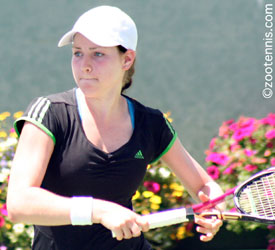 "I am so excited," McPhillips said after verbally committing to play for Coach Stella Sampras Webster. "The first things I'll be packing are my sunglasses and a bikini."
McPhillips made all five of her official visits in a frenetic two-week span in late September. She visited UNC-Chapel Hill, Duke, Stanford, Cal-Berkeley, and, finally, UCLA. At each school, she was convinced that she had found the place for her. But it kept getting better at each stop. Her search came to an end on the leafy campus of UCLA. It was a dazzling day, a reminder to McPhillips of the years she had spent training indoors in Cleveland's cold winters.
"When I walked onto the campus at UCLA, I just said to myself: 'This is where I want to be. This is where I want to spend the next four years of my life," the 17-year-old champion said.
UCLA's rich tennis tradition and the strength of its team were big selling points. But so was the "unbelievable" weather. McPhillips said it was "a mega-plus for me."
"I pretty much went into it with an open mind. But I may have been leaning toward UCLA and Duke. I liked them all. I just wanted to do what was best for me," said the two-time Easter Bowl champion.
McPhillips felt an immediate bond with the UCLA team. She has trained with, and competed against, some of the players for years.
"I love the team," she said. She noted she had attended USTA camps with UCLA freshman Robin Anderson back when she was 10 or 11. She knows Courtney Dolehide, a sophomore from Hinsdale, Ill., from their days competing in the Midwest Section.
"She always beat me in Midwest Closed," McPhillips said with a laugh. "I've grown up with a lot of these girls, so I know I'll have an awesome time with them."