Who's Hot?
Prince Hot 100 List - October '11
by Amelia Thomas, 17 October 2011
With the Fall Signing Period on the horizon, the Countdown to Signing Day tends to dominate the content at TennisRecruiting.net during the months of October and November. But there are a lot of tennis players out there - and a lot of tennis is getting played. We take time out of the Countdown to recognize some of the better performances with our regular monthly feature - the Prince Hot 100.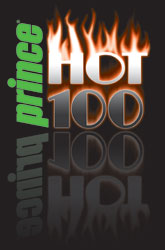 The Prince Hot 100 lists are published each month, and the October Hot 100 lists feature the one hundred boys and girls who most improved their ranking during the month of September. You can find out more about the Prince Hot 100 - and how the lists are calculated - by reading here.
The very latest lists, published earlier today, are available here:
Let's check in with some of these players...
Roundup
Julia Lilien (Scottsdale, Ariz.)
Starting in fall of last year, two-star sixth grader Julia Lilien began experiencing sharp pains in her left foot. Not thinking much of it, she continued playing tennis for six months with severe pain. She finally visited several doctors, who diagnosed her with a genetic foot problem and told her she would need surgery.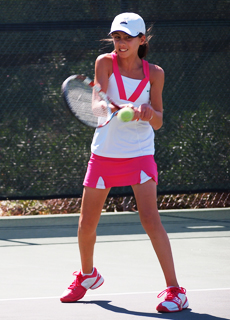 Lilien missed out on the most competitive time for tennis in late spring and most of summer, but she was freed from her cast in June. "She has not turned back since," said her mother, Denise Lilien.
Of course, the left-handed player was out of shape coming back into the summer season, so she invested extra effort into getting back to a competitive level. Returning in the heat of the summer meant practices in 115-degree weather, but Lilien still practiced for six hours a day.
The Scottsdale, Arizona native also switched to a new academy, EuroTennis Academy in Paradise Valley, to help her get back in shape. "I knew I would receive a lot more personalized attention," Lilien said. She now works with coaches Jeremy Coll and Vera Leontyeva. "Both my coaches have helped me improve my endurance and intensity," Lilien said. "They have also worked on my mental game to make me a stronger competitor."
What Lilien cited as her best win last month demonstrated that all the extra attention proved successful for her. Lilien competed in the aptly named Back to School, Back to Tennis and encountered three-star seventh grader Lena Sweiss in the finals. "[She] had much more tournament experience than I had and was a tough competitor," Lilien said. She won the first set, 6-4, lost the second 3-6 - but came back to take the match and the championship with a 10-4 tiebreaker.
Lilien also won the consolation event in the New Mexico Lobo Cup, pushing her record for the month of September to 8-1. Her performance lifted her ranking nearly 100 spots on the Babolat Class Rankings - and placing her number one in the Prince Hot 100 this month.
In addition to tennis, Lilien plays golf and has also competed in swimming and enjoys skiing and ice-skating. "I don't have as much time to play these other sports anymore, but I still enjoy them," Lilien said.
She also maintains a high level of academic success. She appeared on Rancho Solano Private School's honor roll last year, and she received the President's Award for Education Excellence.
As a sixth grader, Lilien has plenty of time to evaluate college choices, but she already has some requirements in mind. She hopes to attend a college with both strong academics and a top tennis team. "Stanford University would be a great place to end up!" Lilien said.