Commitment Profile
Fall Signing Week '11: Elaina Cummer Picks Davidson
by James Hill, 8 November 2011
Elaina Cummer's journey in life began with her birth in November 1993 at Novokubansk, Russia. The day after her seventh birthday, Elaina was adopted by Ed and Trish Cummer, and she came to the United States with her new family. The Cummer family resides in Plano, Texas, located in the Dallas/Fort Worth Metroplex.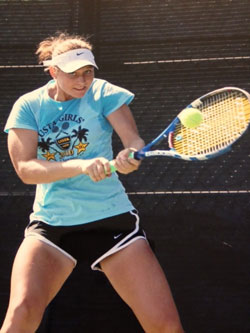 The next stop for the five-star recruit will be Davidson, N.C., as Elaina has committed to become a member of the
Davidson College
Wildcats tennis team.
Davidson is an NCAA Division I program and member of the Southern Conference (SoCon). The Wildcats are guided by Caroline Price, who is in her 30th season at the Davidson helm. She led her team to the NCAA Division III Championship in 1984, and she was ready for a new challenge as the Wildcats moved to Division I in 1987.
Coach Price is not able to comment on Elaina until she officially signs with Davidson, but Elaina gave her verbal commitment in October.
Elaina, whose TennisRecruiting.net ranking has been as high as No. 54 this year, had plenty to say about her new mentor and teammates.
"Coach Price and Assistant Coach (Bryce) Plott are a great pair," said Elaina. "They seem to be genuinely interested in the girls on the team and very intent on getting the best possible results. The girls on the team are welcoming, fun, and easy to be around.
"I was looking for a small school with strong academics and a moderate climate. Also, the school needed to offer Russian - because I would like to relearn my native language. Davidson students are really into sports. It's unique in that 25 percent of the student body plays a DI sport. Another key factor was that everyone there is focused on academics."