Tournament Summary
Unseeded Wiersholm, Daniel Take Tennis Plaza Cup Titles
by
Colette Lewis
, 27 January 2012
While many of the USTA Level 3 Regional Tournament Segments in other parts of the country were plagued by rain last weekend, the Tennis Plaza Cup in Coral Gables had nothing but warm temperatures and sunny skies for its eight divisions, held at four different sites.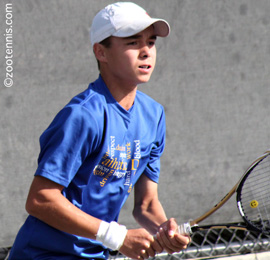 On the Har-Tru courts of Salvadore Park, unseeded 14-year-old
Henrik Wiersholm
, originally a tournament alternate, won the boys 18s title, defeating No. 2 seed
Ognjen Samardzic
6-0, 6-1 in the final. The girls 14s title went to
Jaeda Daniel
, also unseeded, who upset No. 1 seed
Sofia Kenin
6-2, 7-6(4), while the boys 14s played out more conventionally, with top seed
Jean Thirouin
defeating No. 2 seed
Michael Kuznerko
6-7(6), 6-3, 6-0 in the championship match.
Boys 18s
Wiersholm, playing in only his second tournament in the 18s division, was the second alternate when the initial acceptances were announced. When dropouts put him in the draw, he made the most of it, aided by No. 3 seed Stefan Kozlov's late withdrawal, which prevented a first-round blockbuster between the division's two youngest entries.
Now training full-time at the USTA's National Center in Boca Raton, Wiersholm dropped only one set en route to the final, losing the first set of his semifinal match with unseeded Sam Swank, who had upset top seed Grant Solomon in the second round.
Samardzic, who was returning to the Tennis Plaza Cup boys 18s final after losing to Brett Clark in 2011, also had a difficult match in the semifinals, where he beat longtime Florida rival Jake Albo 6-4, 3-6, 7-6(5).
"I think he was a little bit tired from his last match," said Wiersholm, who a year ago at this time was winning the prestigious Les Petits As title in Tarbes, France. "That definitely helped me out when I came out to a strong start at the beginning. I was a little bit tired, but I told myself if I could get an extra boost of energy at the beginning, I could sustain that, which is what I did."
Wiersholm won the first 10 games of the match, with Samardzic unable to stay in the rallies with his smaller opponent.
After yet another unforced error cost him a game, the 16-year-old from Bradenton, Florida announced loudly, "I guarantee my mom could make more balls in the court."
Wiersholm kept the pressure on and his level high with the exception of the eleventh game, when a few loose points gave Samardzic a break of serve. But there was no repeat of his frustrating second set in the semifinals against Swank, when he saw a 5-0 lead evaporate. Wiersholm broke a dispirited Samardzic for the sixth straight time in the next game and uneventfully served out the match.
"He deserved to win, props to him," said Samardzic, who took a tumble in the final game of his semifinal match, which later caused him some discomfort.
"Physically, I'm not one-hundred percent, but that's not an excuse. In tennis you have that all the time. He played much better than me today. There's not much to say. No excuses, he beat me pretty bad."
The boys 18s doubles title went to the unseeded team of Jack Haffey and Daniel Sun, who beat brothers Arnav and Arsav Mohanty, also unseeded, 9-8(7).