Special from
Scholarship For Athletes
Scholarship for Athletes sat down with Mark Booras, the men's tennis coach at Tulane University. Booras shares what he looks for in new recruits and the challenges facing incoming freshmen.
Questions and Answers
Scholarship for Athletes (SFA): What advice do you have for high school athletes that strive to play college sports?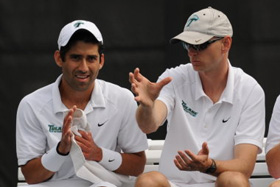 Mark Booras (MB):
It is a very competitive field to earn an athletic scholarship. A commitment to excellence is necessary throughout to achieve continued success.
SFA: At SFA, we try to explain to our clients that the recruiting process is like being on three year job interview; is that how you view the recruiting process?
MB: I start looking at recruits as early as the NCAA will allow. In general, at the beginning of their junior year I will look more closely at them to see how their game has developed and will develop.
SFA: What advice do you have for the parents of high school student athletes about the recruiting process?
MB: Do your research! Definitely try to find the right fit for an all-around student-athlete experience. There are some fantastic academic and athletic opportunities available at schools that may not be on the stereotypical radar at the moment.