Commitment Profile
Countdown: Trinh Roars with the LSU Tigers
by
Ali Jones
, 13 March 2012
Tam Trinh sported a white LSU cap to his first Kalamazoo Championship in 2010, when he and his partner went on a magical run as the first unseeded team in 25 years to win the 16s doubles title.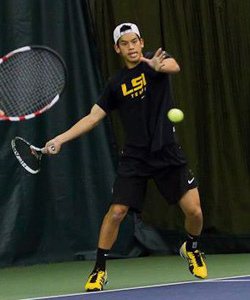 In fall 2011, the five-star Trinh made his intentions official with the Tigers by signing a National Letter of Intent to play for Head Coach Jeff Brown and Assistant Coach Danny Bryan.
"It was mostly LSU the whole time," said Trinh, whose good friend Roger Anderson is on the team and who had bridged the relationship between him and the LSU coaches. It was Anderson, too, who gave Trinh the LSU cap.
The Texan, who wanted to stay close to home, considered TCU and Texas Tech, but "I'm choosing LSU definitely because of the coaches."
His decision became crystal clear the year after his glorious debut at Kalamazoo. The pressure to uphold his 2010 results (8-2 in singles and the doubles crown) proved too much for the young man from Richardson, a Dallas suburb. He left Michigan with a disappointing performance as he lost in the second round of the back draw 1 and 1.
"I remember [both coaches] talked to me and they sounded so positive after my loss," Trinh said. "They really believed in me and that meant a lot - talking to me when I'm down, not just when I'm up winning and doing well."
He's not sure about academics yet, although "I'd major in tennis if I could," he laughed.
"These are the type of guys that you build championship teams around," Coach Brown said of his new recruits Trinh and Harrison Kennedy. "They will come in and contribute immediately. Along with their athletic accomplishments, they are both high-character individuals who do very well in the classroom. We are very excited about this class."