Commitment Profile
Countdown: Kitchen Commits to the Terps
by Sonny Dearth, 22 March 2012
Many important people occasionally leave business hotbeds to travel to vacation spots. But with Five-Star recruit Ashley Kitchen, it will be the opposite.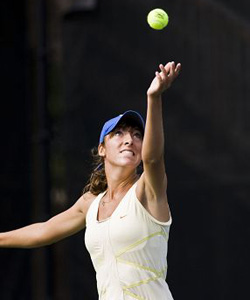 Kitchen, who grew up on picturesque Hilton Head Island, has committed to play for the
University of Maryland
. Its campus in College Park is just a couple of lobs and a drop shot away from the District of Columbia, where some of the world's most important political and financial decisions are made.
"I was attracted to Maryland because of the tennis, but also their strong business school was a big part as well," she said. "Business will be great being so close to Washington, D.C."
Ranked 40th in the senior class and first in South Carolina by tennisrecruiting.net, Kitchen considered three other major universities before settling on becoming a Terrapin in Dianne Matias' Atlantic Coast Conference program.
"I also looked at Auburn, Tennessee and Penn State. The main difference was that I really liked the campus, the girls and Coach Matias," Kitchen said. "She is so positive, which I really looked for in a coach: someone that will push me, but in an encouraging way, and I could see myself fitting in best here for my college tennis career. Also a positive note is that it is in the ACC, a strong conference."
Kitchen and Sarah Gealer of Los Angeles, also a Five-Star player, comprise the Terps' 2012 recruiting class. A national panel of tennis followers recently ranked Maryland's incoming group in a tie for 23rd nationally.