Commitment Profile
Countdown: Patrick Heads to Hawkeyes
by Marcia Frost, 27 March 2012
As a five star recruit, Dominic Patrick had quite a few schools interested in him. The 18 year old has checked his favorites out and made the decision to play for the Iowa Hawkeyes starting this fall.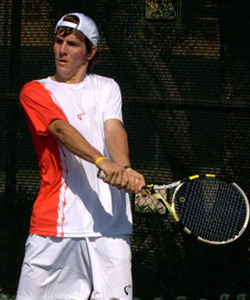 Dominic Patrick lives in Gilbert, Arizona, and trains at the
Pavel & Blackwood Tennis Academy
with owners Andrei Pavel and Nick Blackwood. He also makes time for high school tennis at Campo Verde High School. In 2011, he won the
State Division II championship
, taking out two of the top three seeds and bringing his school its first title in any sport.
"I am still playing high school tennis," says Patrick. "I enjoy the feeling of being on a team. I also feel it can only help with college tennis because you get to be with a team - which normally doesn't happen often in junior tennis."
Patrick is the top player in Arizona according to the ADNA Rankings and comes in at 29 nationally. He recently won the Phoenix Junior Championships and was a finalist at the USTA Regional Tournament in Las Vegas this fall, but it was in his home state that he garnered the most attention in September.
At The Arizona Open men's tournament in Scottsdale, he and made it all the way to the finals before falling to top 200 player Brian Battistone, 6-3,6-4. Patrick intends to keep playing through the summer, even though his college plans are set, "I have played one tournament so far this year and have a couple more planned. I love the competition, so I believe I will be playing more as the year goes on," he says.