Tournament Summary
Ojai Wrapup Part II: Whittle, Ho, and Brymer Win Titles
OJAI, California - Every spring except one since 1899, the tradition-steeped Ojai competition - the nation's oldest amateur tournament - has attracted some of the country's finest tennis players. And such was the case last week in the 2012 edition of the venerable tournament the Los Angeles Times has hailed as a "breeding ground for tennis champions." More than 1,500 participants in 27 junior, adult, high school and collegiate divisions slugged it out on more than 100 public and private courts in Ojai and nearby Ventura County communities.
Over the course of the week, California high school and Pacific-12 Conference collegiate champions were crowned, and rising juniors and wizened adults walked away with some of the most coveted titles in American amateur tennis.
Among the newest junior champions are Eli Whittle (Boys' 16s), Alison Ho (Girls' 18s), and Gage Brymer (CIF Singles).
Eli Whittle, Boys 16s
Eli Whittle celebrated his victory with a well-deserved nap. His back was sore, he was physically and mentally tired, and he was still recovering from the heat stroke he suffered during his semifinal match.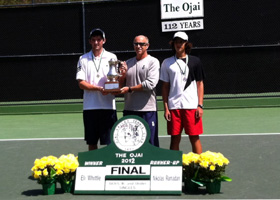 Reaching the finals, he managed to hold his body, heart and mind together to beat five-star
Nikolas Ramadan
, 6-3, 6-2.
"Every round was pretty tough," said 9th seed Whittle, who almost defaulted his semis against Michael Genender.
"I had to throw up, felt exhausted," he said of his semis. "My head hurt really bad, and my stomach. I was getting chilled. This never happened to me before."
Rather than retire, he took a medical timeout and see if he could hold on long enough to pull off that match.
"I thought I had a good chance to win the tournament," he said, after he narrowly beat local favorite Fabian Schaefer 6-2, 3-6, 1-0(8) in the quarters, and Ethan Lopez the previous round, 7-6, 6-4.
Whittle knew that he had to make major adjustments against Genender if he was to pull off a victory.
"I was tired and I knew I wasn't going to win the way I was feeling, but I adjusted my serve a little bit, served harder, hit more forehands, played smarter," he recalled.
On the morning of the finals, his back nagged at him and a short warm up with a high school buddy didn't bode well.
"He was winning most of the points and I'm like, that's not good," he chuckled. "But maybe if I just served well and played smart I could win."
His game plan was to take a lot of forehands and to be stingy with points.
"I took a long time between points and then I just go for the forehand, made every return, and put away volleys," said the 6-foot-3 junior from Nipomo, just south of San Luis Obispo.
He couldn't break Ramadan's first service game, but managed to get up 5-2 in the set.
Ramadan served to stay in the set and got up 30-love.
"I was down in a lot of games," Whittle said. "I thought maybe if I got this game for the set, he might get discouraged and he'd let up a bit."
Whittle succeeded, and kept up the pressure. He didn't want to go a third set.
"I was returning everything deep and he was on defense most of the time," the champion said. "All I had to do was hold my serve and not do anything stupid."
He allowed Ramadan two games, before finding himself down love-30 as he served for the match.
"I hit two aces, had a match point, but he hit a passing shot," he said.
As in the previous set, the last game was heavily contested and went to deuce. At deuce Whittle hit a serve out wide to Ramadan's forehand which gave him a volley he put away. On his second match point, Whittle unleashed another big serve, Ramadan returned it and a 10-shot rally ensued.
"I was totally in control, and then I hit an approach to his back hand and came to the net," the champion said. "I hit a volley to his forehand, he tried to hit a passing shot, but I saw it coming. I put it away to his back hand."