Who's Hot?
Hot 100 List - July '12
by Amelia Thomas, 16 July 2012
This summer has held some record-breaking temperatures in the United States. Temperatures that top 100 degrees make it easy to give up on workouts and stay inside. The players on the Hot 100 List, however, aren't taking the easy way out. We caught up with a few of those exceptional recruits in today's edition of the Hot 100.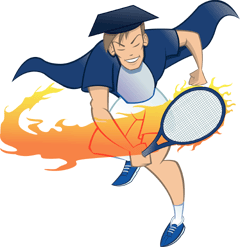 The Hot 100 lists are published each month, and the July Hot 100 lists feature the one hundred boys and girls who most improved their rankings during the month of June. You can find out more about the Hot 100 - and how the lists are calculated - by reading here.
The latest lists, published earlier this week, are available here:
Let's take a look at a few players who turned in strong performances...
Roundup
Sarah Stein (Dublin, Ohio)
A few months ago, three-star rising senior Sarah Stein would have described her game as "bits and pieces" that she couldn't quite figure out how to put together.
Stein felt she was too caught up in the competitive side of the game, so last winter she decided to take some time away from tournament play. "I was struggling with my confidence, and having some time off to focus on my game without the stress of tournaments really helped," Stein said.
Since this decision, Stein has made vast improvements in her game. "My game has changed a lot as I have progressed as a player," Stein said. Before taking time away from tournaments, Stein's game was very aggressive, and she always went for every shot. Now, she explains that she is working on patience. "I work the point to get to the shot that I want," Stein said.
Although the break from tournaments was beneficial to Stein's game, her parents explained that she couldn't stay away for long. "What brought her back is her love and respect for the tennis," her father, Moni Stein, said. "She missed going to tournaments and competing at a high level."
Stein made a strong return to tournament play in May, when she won the consolation finals of the GCTA Area Qualifier. Since then, she has been racking up wins, compiling a 9-3 record for the month of June.
Of these victories, the one Stein was most proud of was her win over five-star rising senior Macie Elliott at the USTA/Midwest Closed Championships. Stein used her recent work on patience to win the match. "During the match, I worked the points and put myself in the situations I wanted to be in," she said. "It really boosted my confidence seeing everything finally coming together."
Stein's parents believe that her sportsmanship sets her apart from other players. "Sarah is very competitive, but she is a very fair individual," Moni Stein said. "She respects the game and her opponents, which makes it easier to win and sometimes lose. She never gets too upset or too excited, and she always tries to improve her game."
Stein agrees with her parents. "I have a strong will and eagerness to compete against the best players, she said. "I like to play fair and win fair. I also like to leave it on the court and get along with girls I play against."