Championship Week
Taylor Fritz Sweeps USTA Boys 14 Nationals
by James Hill, 15 August 2012
The home of Taylor Fritz in Rancho Santa Fe, Calif., is glittering with gold balls.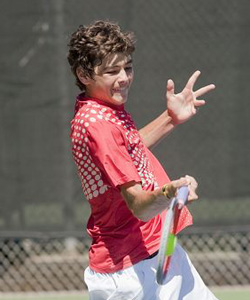 Boys' 14s Champion
Taylor Fritz
© Doug Wrege, TennisRecruiting.net
Fritz won his third overall top prize by sweeping the singles and doubles titles at the
USTA Boys 14 National Championships
held Aug. 5-10 at San Antonio's McFarlin Tennis Center.
The third-seeded Fritz defeated No. 10 Gianni Ross of Burr Ridge, Ill., 6-1, 6-3 in the singles final. The day before, Fritz and his doubles partner, Anudeep Kodali of Durham, N.C., the No. 1 seeds, dispatched the No. 3 team of Lane Leschly (Atherton, Calif.) and Mwendwa Mbithi (Succasunna, N.J.) 6-0, 6-1 in the championship match.
Fritz's accomplishment marked the second straight year a player swept the singles and doubles championships at the event hosted by the San Antonio Tennis Association. Cameron Klinger won both events in 2011.
"When you get into nationals, and the final rounds, everybody is good enough to beat everybody else," said Fritz, who will enter Torrey Pines High School in San Diego in September. "It all comes down to how someone plays against you. It's all the best players in the United States here. When I got out there in the final rounds, I concentrated really hard and played my game. I played well enough to beat some really great players."
The 6-foot-1 Fritz has some great "tennis genes" in him. His dad, Guy Fritz, a former pro player, accompanied him to Texas. His mom, Kathy May Fritz, a 2011 Southern California Tennis Association Hall of Fame inductee (with Billie Jean King, Dick Leach, and others), was once ranked No. 8 on the women's pro tour in the late 1970s. She also has collected an enormous number of USTA gold balls!
The first gold ball for the younger Fritz was garnered in July at the USTA Clay Courts at Fort Lauderdale, Fla., as he and Billy Rowe (Coronado, Calif.) bested his future first-time partner, Kodali, and Johnathan Small (Midland, Mich.) in the doubles championship.