News & Features
Special Feature
500 Sets a Year
by
West Nott
, USC Women's Tennis, 26 September 2012
I tell parents all the time: take one private a week, and go play matches. Sometimes I tell parents to take one private every two weeks. It's just overkill to do anything more until you reach the higher stages of the game (i.e., professional tennis). Players need to be playing 8-10 sets a week - that's where the real learning happens.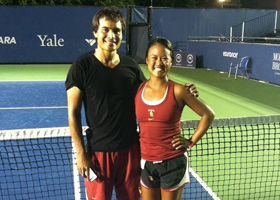 West Nott with
USC
assistant coach Alison Ramos
Tennis is a game of trial and error, not about feeding out of a basket and focusing on technique. Players need to learn how to compete and cope with stress. There is nothing stressful about doing crosscourts for an hour, it doesn't get to the essence of what tennis is... a nasty contest between two people where there is a winner and loser. Black and white. You are judged by the bottom line.
Eight to ten sets a week is a great benchmark to set. Play with anyone who will play with you. I'm tired of players or parents saying "I won't play with so-and-so because they push... because they cheat... because they aren't good enough..." All are poor excuses. All you are doing is saving the player from the realities of the world. You will play pushers who will make life miserable, do you want me to ask them to stop missing? You will play cheaters who will cheat you on the biggest point of the match. You will play parents who cheer against your double faults. You will play hackers, net rushers, grinders, counterpunchers, flat hitters, dinkers, rabbits - you can't simulate this through drilling or feeding. Simply impossible.
This Article Is Available Only to Recruiting Advantage members
Please log in to access premium TennisRecruiting.net content.
| | | |
| --- | --- | --- |
| LOG IN | | NOT REGISTERED? |