Who's Hot?
Hot 100 List - August '12
by Amelia Thomas, 22 August 2012
With the start of the school year already here for some - and knocking on the door for everyone else - many junior tennis players are taking advantage of the last few days before fall. We caught up with a few of the more exceptional players in today's edition of the Hot 100.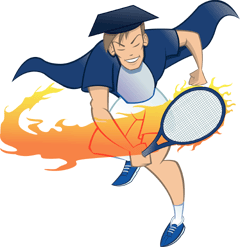 The Hot 100 lists are published each month, and the August Hot 100 lists feature the one hundred boys and girls who most improved their rankings during the month of July. You can find out more about the Hot 100 - and how the lists are calculated - by reading here.
The latest lists, published earlier this week, are available here:
We checked in with a few of these top performers...
Roundup
Patrick Quinn (Portland, Oregon)
Two-star rising freshman Patrick Quinn made a jump of over 100 spots on the Athletic DNA Class Rankings List over the month of July. He believes the leap resulted from several changes he has made to his training.
Quinn recently began playing at a High Performance Tennis program in his area, and he has increased his training to five times a week.
Of course, Quinn also acknowledges the work of his coaches as contributors to his recent success. Quinn trains with Patrick Dreves, the Head men and women's coach at Lewis and Clark College, as well as Ryan DePalo, his strength and conditioning coach.
Quinn and his coaches have been focusing on his mental game. Specifically, Quinn has been working on being more aggressive and staying relaxed and positive during matches.
The Portland, Oregon native also cites another person as a motivator of his success. "I am also very fortunate that my younger brother Michael pushes me to be the best I can be in this sport," Quinn said. "We make each other better by practicing every day together."
Finally, Quinn stated that keeping track of his goals helped him excel over the past few months. He keeps two journals, one to record game plans and reflections of the outcome of matches and the other to hold short-term and long-term goals. "I try to do one thing a day that gets me closer to reaching my goals," Quinn said.
Quinn certainly reached some of those goals last month. He won the Washington State Junior Championships and reached the semifinals of the YTC Summer Championship/Challenger, bringing his record for July to 13-5.
One win stuck out to Quinn. He faced three-star rising freshman Oscar Burney in the finals of the Washington State Championships. Quinn had previously played Burney several times. "We always have very close matches," Quinn said. "He's a very good player." He defeated Burney, 4-6; 6-1; 11-9. "I was so happy with how I played because it was a competitive match, and I was hitting out and being very aggressive," he said.
Quinn's respect for Burney allowed them to compete together on the B14s PNW Zonal team in Colorado. "We had a great time playing doubles in Colorado and hope to play more doubles tournaments together," Quinn said.