Special from
Scholarship For Athletes
Division III tennis is on the rise. 15 4/5 stars signed with Division III schools in 2007. This number rose to 24 in 2011. As the quality of Division III tennis continues to escalate this pattern is likely to continue. To better understand how competitive Division III tennis is, Scholarship for Athletes took the time to sit down with Middlebury Men's Tennis Coach Bob Hansen.
Questions and Answers
Scholarship for Athletes (SFA): What are the major differences between coaching a Division III team versus a Division I team?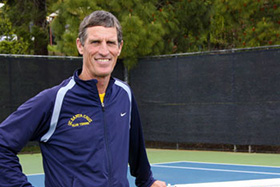 Middlebury
Head Coach Bob Hansen
courtesy, Middlebury Athletics
Bob Hansen (BH):
In general coaching is coaching. A good coach is able to determine what a player needs to get to the next level and points them in that direction by providing a training environment and tools to address the next steps. The biggest general difference in the level is that top Division I players are being paid to represent a school where as Division III players are playing for the love of playing and see it as part of their education.
SFA: What do you think about the general level of play in Division III tennis?
BH: It keeps getting better and better! The top teams have been very good for quite some time, but now there are a growing number of very good teams. The level of American players going into Division III schools is at an all time high and it seems like an increasing number as the lure of pro tennis has become more challenging even for very good Division I players.
SFA: Do you think there are Division III teams that could compete with Division I teams?
BH: At UC Santa Cruz we played about half of our matches each year against Division I programs. There was a time when we beat 20 consecutive Division I programs but that was when most of them were not fully funded and had only a few foreign players. I think that the top Division III teams are better than about two thirds of the Division I teams but clearly not as good as the top third.