Catching Up
Life in the Pros for Christina McHale
by Marcia Frost, 24 September 2012
Making the decision to turn professional is never easy for anyone. Christina McHale gave it a long consideration before making the move two years ago. At the age of 18, she was the Girls' 18 Nationals reigning champion and she had already won a few professional titles. She had a WTA ranking that was getting close to the top 100 and it was time to put her effort in to break through.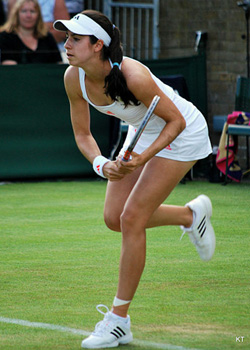 Two years later, McHale has exceeded her career expectations. She's currently ranked No. 24 in the world, she has represented the United States in the London Olympics, and she has been a member of four Fed Cup teams.
Unfortunately, The summer didn't end for Christina McHale as well as it began. "I have been feeling sick since I got back from London," she said after her first round U.S. Open loss to No. 74 ranked Kiki Bertens of the Netherlands. "We just found out I have [mononucleosis]."
Losing is never easy, but McHale found it even harder at the Open, her favorite tournament. She can always count on the crowd support there to include family and friends since she's back to living on the East Coast. She remembers last year's second round match against Marion Bartoli as her most memorable, as much for the packed Grandstand and positive atmosphere as for the win over a higher ranked player.
"I'm living in New Jersey now because I'm training in New York with the USTA," she explained. McHale, along with Melanie Oudin, is one of the American players now taking advantage of the new facilities at the Billie Jean King USTA National Tennis Center.
Christina McHale's memories of the National Tennis Center also include sister Lauren, who plays for the University of North Carolina. She remembers going to the Open before she ever played there and enjoying the curly fries and the burgers. She also came out to the National Tennis Center last fall to watch Lauren and her team play the College Tennis Invitational.