Who's Hot?
Prince Hot 100 List - September '12
by Amelia Thomas, 19 September 2012
With school returning to full swing, schedules for junior tennis players just get busier. Some players, however, have still managed to pull out strong results. Many of these players are featured in our latest Prince Hot 100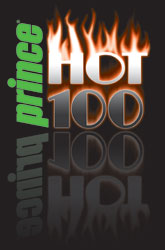 The Prince Hot 100 lists are published each month, and the September Hot 100 lists feature the one hundred boys and girls who most improved their rankings during the month of August. You can find out more about the Prince Hot 100 - and how the lists are calculated - by reading here.
The latest lists, published earlier this week, are available here:
Let's take a look at a few players who turned in strong performances...
Roundup
Victoria Martinez (Haddonfield, N.J.)
Three-star junior Victoria Martinez points to her training over the summer as a factor of her improvements last month. She attended Smith Stearns Tennis Academy in Hilton Head, South Carolina during the summer.
"Having the opportunity to train every day with highly competitive players in an elite setting truly made a difference in my game," Martinez said.
The academy focuses on helping players achieve their own personal goals. Each night at camp, Martinez wrote in a journal about what she learned from coaches that day. She also spent time reviewing videos of her private lessons to help her isolate the parts of her game she needed to work on.
"I learned very quickly that discipline, structure and mental toughness are extremely important to achieve your potential in a competitive sport, like tennis," Martinez said. "Training in an environment like Smith Stearns Academy helped me develop my game to the next level."
Martinez had the opportunity to showcase her newly developed game in two tournaments last month, the Philadelphia Junior Open and the Atlantic Club Open. She reached the finals of both tournaments, bringing her record for August to 8-1 and launching her nearly 50 spots up on the Babolat Class Rankings List.
Martinez compiled several notable wins in August, but she feels her best recent performance occurred at the USTA Regional Tournament in Minneapolis the first weekend of September. In the round of 32, Martinez faced three-star junior Kathryn Hall.
"From the first point of the match, I played very aggressive and made very few unforced errors in the first set," Martinez said. Martinez took the first set, only to see her lead evaporate when she lost the second set 1-6. "Before playing the third set, I tried to figure out what worked in the first set," Martinez said. "I knew I had to stay completely focused, like every point was match point. The third set was definitely the best set of the match for me."
Martinez defeated Hall, 6-4;1-6;6-1. "My opponent was a tough competitor who forced me to play my best tennis to win the match," Martinez said.
With all the joy Martinez has found in tennis, she believes it is important that she help share her experience with others. "Tennis is a sport that has given me so much, and I wanted to give back to the sport," she said. Last year, she participated in Timeless Tennis, a USTA/Middle States project that helps elderly individuals enjoy the sport.
Martinez collected over 30 tennis racquets from clubs in her area and donated them to the effort. "This was very rewarding for me - to think that maybe someone would have the opportunity to enjoy tennis the way I have for years," she said.
Martinez is also an excellent student who was recently inducted into the National Honor Society.