Commitment Profile
Fall Signing Week '12: Lipman Commits to the Gators
by Todd Holcomb, 15 November 2012
Hiring Bryan Shelton as head coach paid off quickly for the University of Florida.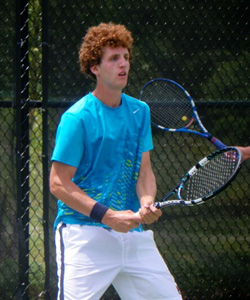 Maxx Lipman
, a former No. 1-ranked junior player from Brentwood, Tenn., wasn't thinking about Florida until June, when Shelton - who led the
Georgia Tech women's team
to an NCAA title
in 2007
- got the job and quickly reached out to Lipman to see if he still had a chance.
Although coincidental, it didn't hurt that Lipman's coach, Bill Tym, played at Florida and was Shelton's coach and mentor when Shelton was a junior player in Alabama. Shelton went on to become a top-100 ATP touring pro.
The Lipman family had known Shelton for years, and his reputation was enough to persuade Lipman to check out the Gators.
"They jumped on the radar late," said Lipman, whose other finalists were Vanderbilt, Georgia and Southern Cal. "I started the [recruiting] process early, and they were by far the last school to come in. It's interesting how it worked. I was excited about getting to know Bryan. Everybody had said good things about him. The moment I stepped on campus, I just knew there's no other place to be. Things happened pretty fast."
Also coming to Florida for Shelton's first recruiting class is Josh Wardell of Fort Myers, Fla.
In Lipman, Florida is getting a player whose potential and pedigree are perhaps higher than his ranking, which stands at No. 22 among senior prospects on TennisRecruiting.net.
Lipman's mother, Lisa, played at Vanderbilt in the early 1980s. His father, Howard, picked up the game as an adult. It became a family sport for the Lipmans. Maxx's brother Ryan is a junior at Vanderbilt who could play as high as No. 1 singles this spring.
Lipman has returned to the top after overcoming back injuries twice that kept him out of tournaments for 18 months during the prime of his junior career. Lipman's first back injury occurred in April of 2008, when Lipman was 13. He didn't play tournaments for five-and-a-half months.
Back problems returned in October of 2010, not long after he had won the USTA Boys 18 International Grass Court Championships and been ranked No. 1 nationally in the 16s. He played through December and finally got an MRI until March, when a stress fracture was confirmed.
"At first, I was really sad," Lipman said. "I was ranked No. 1 in the country when it happened. It was a complete fall from grace. I'm thinking I'm where I want to be, set up for next year. It was just really hard on me. The first month, I wouldn't say I was depressed, but I wasn't myself. The only thing that helped me through it was my brother [Ryan] had hip surgery the same time. We were able to be there for each other."